This review originally appeared in shorter form on KSNT-NBC, KTKA-ABC, and KTMJ-FOX, Kansas First News.
Monty Python and the Holy Grail (1974)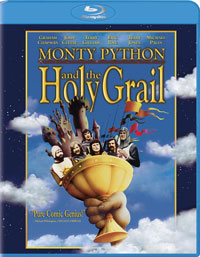 Blu-ray is a great format for classic movies, and these two movies have never looked better than their new re-issues.
Monty Python and the Holy Grail is widely regarded as one of the funniest films ever made, and this new Blu-ray transfer available Tuesday cleans up the grainy picture of this low-budget classic as much as it can while packing in even more absurdist British humor for your buck.
The five surviving members of Python are on hand for two funny and fascinating commentary tracks, plus 13 minutes of lost animations and 10 minutes of outtakes and extended scenes are also included for those who can't get enough of the Knights who say "Ni!"
For those with iPads, the Monty Python and the Holy Grail Blu-ray also includes what is being called a "second screen" experience. The Monty Python interactive iPad app "The Holy Book of Days" will also be available tomorrow, and besides being a content-rich companion to the film through each of the 28 days of filming, the app lets users control and navigate the Blu-ray from the iPad, allowing you to jump to the exact scenes in the movie that you are browsing in the app.
Anatomy of a Murder (1959)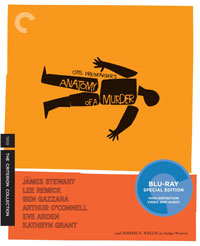 James Stewart plays against type in Anatomy of a Murder, the jazzy courtroom drama from Otto Preminger that broke all kinds of barriers for its frank discussion of a sex-related crime.
Stewart isn't the idealistic underdog trying to free an innocent person—instead he's defending a man of questionable moral character who he's not even convinced isn't guilty.
Directed by Otto Preminger, Anatomy of a Murder is deliberately paced and has a two-and-a-half hour running time, but that's also part of its charm.
Even with the glut of crime-related TV dramas that pepper today's screens, you'd be hard pressed to find a courtroom story that doesn't have you rooting one way or the other with a heavy-handed POV. This one doesn't and in that, it's way ahead of its time.
As a close examination of our legal process and the blurred lines of right and wrong, it's still a fascinating watch—and this new digital restoration from the Criterion Collection looks terrific.
The Blu-ray features a new interview with Otto Preminger biographer Foster Hirsch, an exploration of Duke Ellington's unique jazz score (the Duke even appears in the movie briefly), a featurette on  graphic designer Saul Bass, newsreel footage from the set, and excerpts from a 1967 episode of Firing Line, featuring Preminger in discussion with William F. Buckley Jr. There are also excerpts from the work-in-progress Anatomy of "Anatomy."