This review originally appeared in shorter form on KSNT-NBC, KTKA-ABC, and KTMJ-FOX, Kansas First News.
Making their way to Blu-ray and DVD this week are two movies that were big hits — one on the awards circuit and the other at the box office. Here's two movies worth checking out on home video: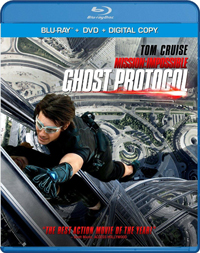 Mission: Impossible – Ghost Protocol (2011)
One of the best pure action films in recent memory is the fourth in Tom Cruise's biggest franchise, titled Mission: Impossible – Ghost Protocol. Now, I won't lie: This exemplary action movie loses a little something translated to the small screen. But if you have a kicking sound system and a widescreen TV, the high-flying thrills will still have an effect on you.
Director Brad Bird made the transition from thrilling Pixar animated films to thrilling live-action seamlessly with this movie. Besides its natural, self-deprecating sense of humor, this new Mission: Impossible has what great action movies need: expertly-staged sequences and a kinetic visual style.
The extras vary of the Blu-ray and DVD versions, but the Best Buy exclusive Blu-ray is the one with the most special features, so beware where you are picking up your copy.
Here's my original TV review of Mission: Impossible – Ghost Protocol.
Here's Aaron Weber's full-length print review of Mission: Impossible – Ghost Protocol.
Shame (2011)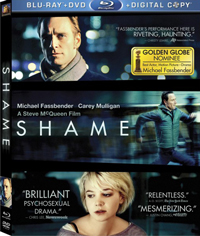 Michael Fassbender won Best Actor in a slew of critic's awards late last year for his gritty portrayal of a successful urbanite who becomes a slave to a sex addiction in the powerful indie drama Shame, directed by British auteur Steve McQueen. This is a no-holds-barred, warts-and-all character study of one man's downward spiral due to a sex addiction, and while it's not necessarily pleasant to watch, it's absolutely fascinating.
Parents be warned: Shame is a very adult movie. I'm guessing that the subject matter and the frank way it's dealt with contributed to it not getting Oscar recognition, but here's the hypocritical thing about the MPAA ratings system: The film was rated NC-17 in the theater, but it's now readily available on home video. Serious fans of adult drama, however, will want to check this one out.
Here's Trey Hock's original review of Shame.
Shame also made Trey's 2011 Top 10 Movies list.