This review originally appeared in shorter form on KSNT-NBC, KTKA-ABC, and KTMJ-FOX, Kansas First News.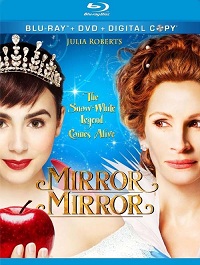 New out on Blu-ray and DVD are two movies — a family comedy you may want to check out and an R-rated teen comedy you'll want to skip.
Mirror, Mirror (2012)
Snow White and the Huntsman told the classic fairy tale of the evil queen and the young princess with a dull color palette and even duller story. Mirror, Mirror, released just two months earlier and out now on Blu-ray and DVD, doesn't make the mistake of taking itself too seriously and is a way more entertaining movie.
Directed by Tarsem Singh, Mirror, Mirror is like a children's storybook come to life—full of extravagant set design, beautiful costumes, and a radiant lead performance by Lily Collins.
The tone is campy and fun, although Julia Roberts seems a little out of place as the queen. She's better with the lighthearted dark comedy side of this role. Still, the script is light and witty, poking a lot of fun at itself and the visual artistry is absolutely gorgeous to look at.
Unfortunately, the bonus features on the disc itself (a couple featurettes and deleted scenes) aren't really worth much.
Project X (21012)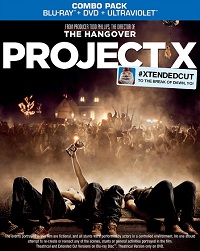 The same can't be said for the crude and utterly charmless Project X, another movie that's meant to look like its shot on home video cameras (although its technically not "found footage") and contains perhaps the single most annoying character ever put on film.
Oliver Cooper plays a loudmouth, over-confident high school nerd from Queens who now lives in Pasadena and bullies his friend Thomas into throwing the ultimate party while his parents are out of town.
But don't compare this to Risky Business or even The Hangover. Project X wants to be the ultimate party movie, but its mean-spirited nastiness, dedication to shock-value humor, and lack of any kind of base-level humanity proves that it's really the ultimate teensploitation film.
And in one final failure, the party really isn't all that crazy or original—it's actually kind of boring. Escapism is one thing, but Project X has no redeeming qualities whatsoever and nothing to say at all that relates to human beings.
I watched the #Xtended Cut, which is somehow longer than the original theatrical release. I suppose this means more "mayhem" and whatever else is passing for entertainment here. There's a grand total of 14 whole minutes of bonus features, so even if you liked this awful movie, don't get tricked into spending more on this edition.
Project X was received as a promotional Blu-ray from Warner Brothers.