Check out videos of all my movie reviews on KSNT-NBC, KTKA-ABC, and KTMJ-FOX, Kansas First News.
Tommy Lee Jones stars in two summer movies that are new on DVD and Blu-ray. Here's a review of two films that couldn't be less alike.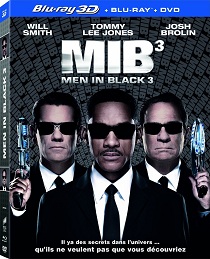 Men in Black 3 (2012)
Will Smith is J and he's back together with special agent K played by Tommy Lee Jones protecting the Earth from the scum of the universe again in Men in Black 3, directed like the other two by Barry Sonnenfield.  The clever conceit that barely keeps this third installment afloat is that J must go back in time to 1969 and work with Agent K as a young man, played by Josh Brolin, who does a spot-on Jones impression.
Men in Black 3 is funny, if familiar, and its energy and quick pacing are key reasons that it's able to skate by. The movie actually deepens the relationship between J and K, which is nice, but it's still really a showcase for more of the same offbeat humor and imaginative special effects that the first two are known for.
The blu-ray features a 30-minute making-of doc, four featurettes about the design and special effects of the movie, and a gag reel. There's also a music video for "Back in Time" by Pitbull, if that's your thing.
Hope Springs (2012)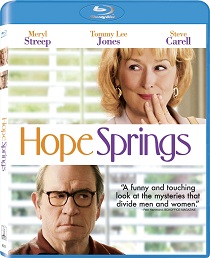 Hope Springs, however, starring Tommy Lee Jones and Meryl Streep, is focused on the relationship of its unhappy married couple, maybe to its detriment. Hope Springs profiles a marriage in crisis and consists entirely of Streep and Jones' couple therapy sessions with a doctor played by Steve Carell.
Sure, there's some big, general things about common couples' problems that ring true, but Hope Springs is all posturing with very little believable character building. And for a film that's ostensibly billed at least as a comedy drama, there's very little comedy. Hope Springs feels more like an outline of a movie than a fully fleshed-out film, even if Jones and Streep are their usual appealing selves.
The blu-ray contains a feature-length commentary with director David Frankel, alternate takes, a bunch of fluffy behind-the-scenes featurettes, and a dumb interview with some doctor/author about how to keep your relationship passionate so you don't end up like Streep and Jones in the movie.