This review originally appeared in shorter form on KSNT-NBC, KTKA-ABC, and KTMJ-FOX, Kansas First News.
Evil is the theme of two movies new out on DVD. One is a thriller starring two well-known actors and the other tells the final chapter of a real-life horror story.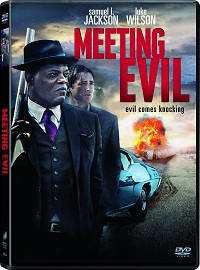 Meeting Evil (2012)
Meeting Evil stars Samuel L. Jackson as a psychopath who entices unsuspecting real estate agent Luke Wilson to get in his car and things go from bad to worse. I'm not just talking about what happens to Wilson's character, I'm talking about the movie itself.
This dumb and awkward straight-to-DVD movie features tons of poor decisions, from the overwrought and intrusive musical score to bad-joke one liners from the main characters down to the supporting ones.
The silly plot, which has Jackson menacing Wilson at every turn, also relies on you believing all of Wilson's character's poor decisions.
The worst decision either actor made was actually appearing in this awful film.
Paradise Lost 3: Purgatory (2011)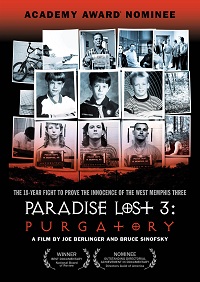 Paradise Lost 3: Purgatory, the last in a series of films directed by Joe Berlinger and Bruce Sinofsky, is a poignant and disturbing Oscar-nominated documentary that chronicles the murders of three young boys in West Memphis, Arkansas, the conviction of three teenagers of the crime, and the 18-year fight to prove those teenagers' innocence while they grew up behind bars.
There's new evidence and a last-minute plea opportunity for the men who became known as the West Memphis Three, but the most affecting part of the movie is seeing clips of them as boys and looking at the toll that a life in prison has taken.
The families of the victims remain scarred as well—one member emerges as a possible new suspect—and the amount of footage that covered the entire event is remarkable.
You don't need to have seen Paradise Lost: The Child Murders at Robin Hood Hills or Paradise Lost 2: Revelations first for this new documentary to resonate. The filmmakers do an excellent job summing up the events that happened before the ones depicted in this movie. For those that have seen the previous films and followed the case, however, Paradise Lost 3: Purgatory still has some little-seen footage and new angles that tell the story of lives lost and put on hold.
Beyond being an articulate examination of the case, the conclusion of the film will leave you with all kinds of questions to ponder about what justice in our legal system really means.