Two horror movies out tomorrow on DVD and Blu-ray take completely different approaches, though neither is wholly successful.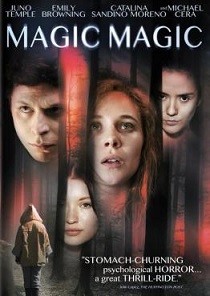 Magic Magic (2013)
Magic Magic is an interesting experiment; much more interesting than its dull face-collage/plain-font cover art might suggest. Also, the fact that its only being released in a bare-bones DVD release and not even Blu-ray betrays the lack of faith Sony has in it.
It certainly doesn't fit easily into any genre, and the only widely recognizable star in it (Michael Cera) isn't remotely known for the genre they tried to sell it as, which is horror.
The movie takes place in and around a vacation home in the Chilean countryside, where a group of friends go to relax. It opens with beautiful nature shots – horses in the sunlight, mountains covered in fog, the night sky. But gradually the surroundings become more sinister as American outsider Alicia (Juno Temple) deals with the unfamiliarity of being isolated with a group of strangers (who can all speak an unfamiliar language) and suffers crippling insomnia.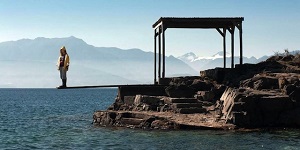 Alienation is a major theme, as evidenced by the introduction to all the characters — a shot where everybody's heads are cropped out for the longest time. Writer/director Sebastián Silva has a knack for creating an eerie mood out of simple scenes: the annoying repetition of jazz standard sing-along "Minnie the Moocher" in the car as they're driving, a running theme of harm to small animals, and the peer pressure to jump off a high cliff into the water.
Cera is a truly strange and wonderful as a repressed creep crying out for attention who alternates between passive aggressive and just plain aggressive, and all of the actors are in naturalistic mode. As a study in deliberate pacing and unsettling tone, Magic Magic is a success. Its best scenes are the ones that showcase how group dynamics can change individual behavior and make people act out. As a psychological horror film, though, its a lot of careful buildup to a pretty unsatisfying climax.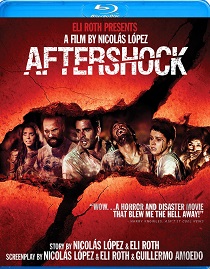 Aftershock (2012)
Also out on August 6, and on the way other side of the horror spectrum is Aftershock, which coincidentally also takes place in Chile. It's no surprise that this one gets a Blu-ray release, since as a schlocky gorefest, it probably has a lot more commercial prospects.
It's only a 90-minute movie, and before the earthquake that gives the movie its title even happens, there's 30 minutes of skeezy older men trying desperately to hook up with young attractive girls that are constantly ogled by the camera.
The cinematography has that pristine high-def clarity that robs it of that movie look, and its brought down further by showy, unconvincing performances by Eli Roth (who also co-wrote the script), Nicolas Martinez, and Ariel Levy. One scene in particular where Roth tries to comfort a friend is particularly awful and amateurish. It's only saving grace is that its punctuated by an almost-funny moment.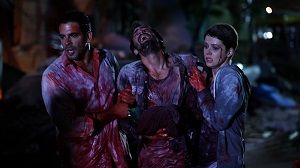 There's an overwrought score and a lot of shaky camerawork while people run through hallways and things fall from the ceiling, which is straight out of 50s b-movies, and still ridiculous. Aftershock never feels real, which undercuts the moments that it tries to take itself seriously. It feels like overeager tourists playing make believe on the old Earthquake attraction at Universal Studios. The parts that work better — which are few and far between — are intentionally played for laughs.
What's really sad and confusing is that director Nicolás López lived through an earthquake in Chile in 20120 and said he based the movie partially on that experience. That, and Roth says in the making-of doc that he's inspired by real-life horror situations. The women in the cast (Andrea Osvárt, Lorenza Izzo, Natasha Yarovenko) fare way better than the men, but this never approaches reality. It is low-grade cheese at best.
Even though its a short film, Aftershock frequently loses steam and by the time the required "final scare" moment finally comes at the end, it's exactly what you expected and you realize you've been waiting for it for over half the film.