This review originally appeared in shorter form on KSNT-NBC, KTKA-ABC, and KTMJ-FOX, Kansas First News.
Machine Gun Preacher (2011)
Machine Gun Preacher is directed by Marc Forster (Quantum of Solace, Stranger Than Fiction) and is based on the true story of an alcoholic ex-con who finds purpose in his life when he becomes a missionary and begins to build an orphanage for the children of South Sudan.
Played by Gerard Butler, Sam Childers gets his nickname when he takes up arms against the self-proclaimed Lord's Resistance Army, led by Joseph Kony, who received international attention earlier this year in a viral video.
Kony and his men destroy families and abduct children, forcing them to fight, but Machine Gun Preacher focuses on the struggle of its main character as he abandons his life at home and becomes obsessed with his new cause.
It's an uncomfortable marriage of sentimental genre conventions and real-life tragedy—shown with graphic, shocking detail. Although it does bring you inside the main character's internal struggle, it doesn't seem focused enough as it sways into action film territory.
Perhaps a documentary about the real Sam Childers might be more effective, because the slim extra features (an interview with Marc Forster, a featurette on the music, and a video of Chris Cornell's bid for a Best Song Oscar) don't help either.
Meatballs (1979)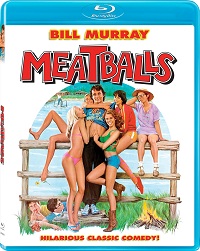 On the complete other end of the spectrum, Bill Murray's first starring role in a movie was also the first film to be directed by Ivan Reitman, who would go on to direct Murray in Stripes and Ghostbusters.
Meatballs was a huge surprise hit in the summer of 1979, and it's because Reitman understands how to mix cornball humor with understated poignancy.
That, and Murray had just perfected the laid-back cool persona that would carry him through the 80s. The commentary track from Ivan Reitman and co-producer Dan Goldberg is actually very informative, and talks at length about how re-shoots with Murray and young Chris Makepeace helped develop the main through line of Meatballs' story.
For those of you that are big fans of the cult comedy hit Wet Hot American Summer, Meatballs is the summer camp movie it parodied the most, even though Meatballs had a bigger heart and was strictly PG.