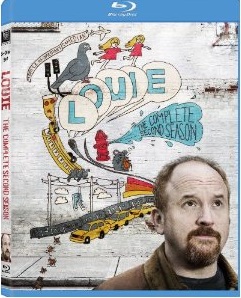 On the eve of the premiere of Season Three of one of the best shows on television, it's a good time to take a look at The Complete Second Season of Louie, new out on Blu-ray. (Louie's premiere airs tonight on FX.)
If there's almost half the amount of commentary tracks on this season as there was on Louie Season One, it's easy to forgive Louis C.K. After all, the guy is busy writing, directing, starring in, and editing 13 episodes each season. He has complete creative control and an innate sense that what's true to himself will be relatable to the viewer.
The Complete Second Season of Louie shows the comedian fully realizing all the promise of Season One, with some of the funniest and most painful episodes ever seen  on TV.
Louis C.K.'s been doing stand-up comedy and writing for TV shows for over 25 years. He wrote and directed Pootie Tang, had one season on an HBO sitcom Lucky Louie (filmed with a studio audience) and numerous film roles, but he seems to have hit a creative peak with Louie, a low-budget one-camera show that isn't afraid to spotlight the darker side of a divorced 40-year-old father who makes people laugh for a living.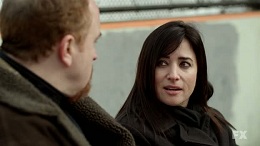 There's no laugh track here, and some of the acting on Louie (from C.K. and especially costar Pamela Adlon) is so naturalistic, it doesn't seem like acting. Like Curb Your Enthusiasm, Louie is semi-autobiographical, but it doesn't often reach for farcical laughs like Larry David. You get the feeling that C.K. is getting a lot of stuff of of his chest and that there is a certain amount of absurdity to it, but it isn't played to ridiculous heights with campy music. It's more like an in-depth examination of the unexpectedly scary stuff inside Louie's head.
Louie also somehow pulls off an unlikely coup: Even as he struggles with what a pain in the ass raising kids can be (and dealing with the guilt that goes along with daring to think that way), he manages to pull off some very touching moments with his two daughters, five-year-old Jane (Ursala Parker) and nine-year-old Lilly (Hadley Delaney).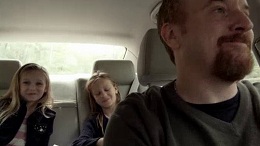 Sure, you've got different bits from Louis C.K.'s stand-up routine interspersed throughout the show, but this isn't Seinfeld. The format works because the honesty he portrays in the mini-story of each episode is mirrored by jokes where no topic is off limits, even if that topic is admitting that there are moments when he wishes he could change all the events leading up to his kids' birth. Brutally honest? Yep.
Guest appearances from Chris Rock, Bob Saget, Stephen Wright, Joan Rivers, and Todd Barry are highlights, but the way C.K. approaches his real-life feud with Dane Cook is masterful, and shows that Louie can deal with conflicting emotions and tonal shifts like no other show on TV. It also shows that Louis C.K. himself is reaching an impressive level of insightfulness.
The commentary tracks from five episodes are also funny and informative, containing a lot of frank discussion about how the show is put together. Here's a sample of some of the Louis C.K. commentary track: