This review originally appeared in shorter form on KSNT-NBC, KTKA-ABC, and KTMJ-FOX, Kansas First News.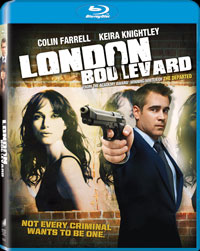 London Boulevard (2011)
Two thrillers from last year have made their way to Blu-ray and DVD, and the results are drastically different.
London Boulevard is a British gangster film written and directed by William Monahan, the man who previously brought the brutal streets of Boston alive when he adapted Martin Scorsese's The Departed.
He could have used some help from Scorsese in this messy thriller, which stars Colin Farrell as an ex-con who falls in love with a paparazzi-plagued actress played by Keira Knightley.
Like The Departed, there's a ton of classic rock on the soundtrack, but the movie doesn't have an ounce of its menace and paranoia.
There are all kinds of weirdo supporting players and the requisite amount of bloody killing scenes, but it doesn't add up to much and London Boulevard just feels like its trying to hard to be edgy.
The Skin I Live In (2011)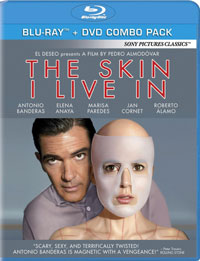 The Skin I Live In, however, is a bizarre and truly disturbing movie starring Antonio Banderas as a brilliant surgeon who gives a patient a new set of artificial skin and holds her captive in his mansion.
That's just the tip of the iceberg. As the backstory unfolds, all kinds of questions are raised the re-color the scenes we are seeing in the present.
Writer/director Pedro Almodóvar has created a movie that's part soap opera, part farce, part gender crisis, and part horror throwback to the 1960 classic Eyes Without a Face.
There are two iron wills in this movie—one to survive and one to avenge. What's shocking is the lengths that each character goes to. Of course, it's not an Almodóvar movie without a serious campy tone to undercut the seriousness of the story, and The Skin I Live In has its fair share of uncomfortable and shocking laughs.
Throughout all of the extreme plot machinations, Pedro Almodóvar also has something interesting to say about the soul of a person. As much as people change on the outside, the core of who they are on the inside remains the same.
No other filmmaker has explored such a straightforward theme in a more twisted or disturbing way than in The Skin I Live In.