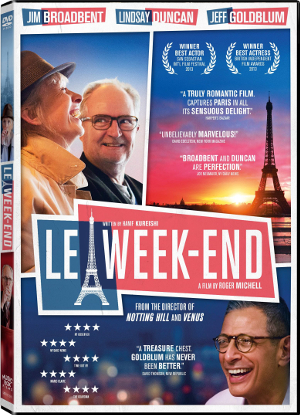 [Solid Rock Fist Up]
Sometimes things take time.
Time to settle into new surroundings. Time to realize you've made a huge mistake. Time to think about the film you watched nearly a week ago, and weren't sure what to write about it because of the way it affected you.Le Week-End definitely fit into the last category.
Roger Michell's (Hyde Park on Hudson, Morning Glory) charming film Le Week-End, out on DVD and Blu-ray now, explores the relationship between Meg (Lindsay Duncan) and Nick (Jim Broadbent), who are on their 30th wedding anniversary in Paris, where they also spent their honeymoon.
Nick and Meg, as I said, are celebrating their anniversary in Paris, however, they're constantly arguing. They've each got their list of grievances with the other, and their laundry list of personal issues, that contribute to what just may be the end of their marriage after exactly thirty years. After running into an old college friend of Nick's, Morgan (Jeff Goldblum), Meg and Nick make plans to attend a small release party for Morgan's new book. After an eventful evening with Morgan, his son, and some of his high-class friends, Meg and Nick begin to come to terms with the status of their relationship and decide on the course of their future together.
Le Week-End is not a film that relies on stunning visuals or mind-blowing special effects. It's a film that puts all the weight of its success squarely on the shoulders of Duncan, Broadbent, and to a lesser extent, Goldblum. Thankfully, each is an incredibly talented actor (or actress!) in their own right, and the trio together are simply a pleasure to watch. Broadbent's Nick is a relatable, neurotic professor who spends his nights awake listening to music on the balcony, because Duncan's Meg is a stressed out mother of three, who feels her life is going nowhere fast, especially now that all their children have left.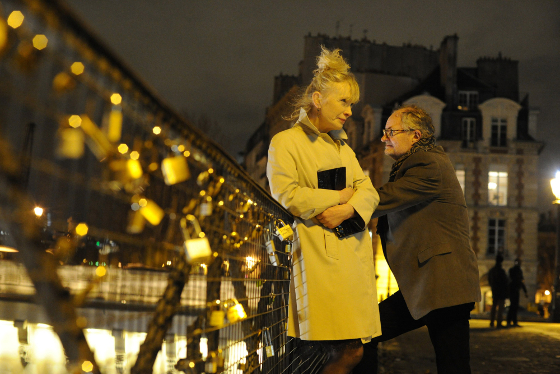 Conversely, Goldblum is a pretentious author and an old mate of Nick's from college whom Meg and Nick run into on the street after lunch one day in Paris. Goldblum attributes most of his success to Nick's fire and personal drive, considering him one of his closest friends, despite not having seen him for years, and relishes showing Nick and Meg all his classy friends, who are economists, prestigious academics, and artists. He's incredibly irritating, however he comes through for the couple when they ask for his help, so grateful is he for Nick's inspiration so many years ago.
At one point, Nick tells Meg that "There's more to love than loving or being loved." I think that quote perfectly sums up the theme of the film. It's not important what the physical actions that Meg and Nick take in Paris, what matters is the fact that they are able to vent their problems to each other, regardless of the unconventional ways they express them. What is great about Le Week-End is that it doesn't give a sugar-coated version of the typical romantic comedy (and Le Week-End is INCREDIBLY funny!), but rather examines a marriage that just may have run its course, engrossing the viewer in the experience and reminding them that in order to make a relationship work it's necessary for both people involved to discuss their issues in an honest way.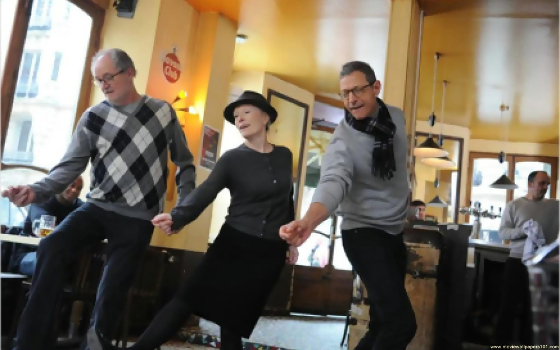 On the DVD, you'll find some of the standard making-of fare, however, one thing I did find rather humorous was an instructional video on how to do the Charleston dance, which you see Nick do during the film, and is done at the end by all three.
I'll be honest. This was a hard review to write. At first, my initial reaction to the film was the same as I normally have with movies of this genre, however, the more I mulled it over, the more I realized that this wasn't a typical romantic comedy, and it had a charming originality that I've never really seen before.
A witty, heartwarming script written by Hanif Kureishi and excellent performances by all three stars help Le Week-End rise above standard romantic comedy faire, and really say something special about what it means to care about another human being.