Check out videos of all my movie reviews on KSNT-NBC, KTKA-ABC, and KTMJ-FOX, Kansas First News.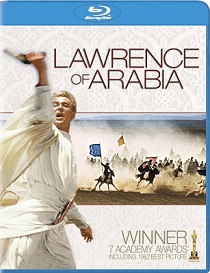 This year marks not just the 50th Anniversary of James Bond, currently topping the box office everywhere in Skyfall, but also arguably the greatest epic adventure film of all-time about another British hero. Here's the review of an amazing brand new Blu-ray collector's box set.
Lawrence of Arabia (1962)
Back in 1962, Lawrence of Arabia was shown on massive widescreen 70mm screens in SuperPanavsion Technirama StereoPhonic sound. These days, you can experience a pristine 4K restoration from the original prints in dazzling DTS-HD 5.1 on what has to be one of the most impressive Blu-rays on the market today.
I don't have much time to go into the plot right now, but Peter O'Toole plays the enigmatic title character, a British Lieutenant who embraces Arab culture as he fights the Turkish Army during the height of World War I.
Besides being a film of immense spectacle with some of the most beautiful landscape shots you'll ever see, famed British director David Lean's movie also works on a personal level, eroding the legend of T.E. Lawrence to reveal the complicated mix of ego and understanding that drove him to perform amazing military feats.
There's two ways to experience this timeless classic on Blu-ray:
A two-disc edition features a feature-length graphic track that accompanies the film and several documentaries and vintage footage from 1962.
A limited edition four-disc collector's version also includes a full-color 88-page book, a CD of Maurice Jarre's sublime score, and interviews with Steven Spielberg, Martin Scorsese, and more talking about the film's influence.
The 50th Anniversary Lawrence of Arabia Blu-ray release is truly something for film fans to get excited about.