If the broad lowest-common denominator comedy Last Vegas is The Hangover of oldster party movies, then the indie feature Old Goats is that genre's Best in Show.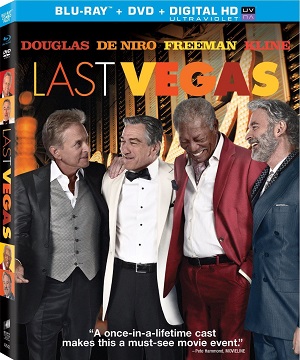 Last Vegas (2013)
Out in a new Blu-ray/DVD combo Pack today, Last Vegas seems more like a vacation for its lead actors than an actual movie. As referenced over and over again in the six chincy extra features on this disc, Last Vegas was the first time that either Morgan Freeman, Michael Douglas, Robert De Niro, or Kevin Kline ever worked together. More so than the script, its pretty obvious that the reason each of them signed on was because the others had agreed to sign on.
A vacation in Las Vegas with three other Oscar-winning actors, surrounded by beautiful women? Who could pass that up?
The flimsy story that exists solely to take advantage of the goodwill each of these larger-than-life personalities have already built up over the last 40 years is pretty much what you'd expect. Four old friends get together for a weekend of debauchery in Vegas, each with their own grand plans. They go through the usual litany of every-guy sexual fantasies (made even more creepy by their age) and then instead end up with softened, sentimental moments that reinforce what decent guys they were in the first place.
In the meantime, there's a constant barrage of cheap jokes which the actors pull off with their usual charm, but the movie also makes you disappointed that they've stooped to this level of humor. Then again, a look at their recent filmographies — with a couple exceptions (Behind the Candelabra, Silver Linings Playbook) — shows that even legends have to pay the rent. (Last Vegas may be crude and obvious, but its far easier to swallow than the schmaltzy pap of another Freeman straight-to-DVD dud or Kline's Darling Companion, for example.)
Director Jon Turteltaub and writer Dan Fogelman have a commentary track on the Blu-ray as well, and its clear the goal was to make a formulaic, slick, fish-out-of-water story and rely on casting to make it all work. Thanks to its actors, its pretty breezy stuff, even while it may leave you shaking your head at how 100 percent unlikely and truly flimsy it all is. You see, the old guys partied so hard that 50 Cent asked them to turn it down!
Old Goats (2012)
On the complete other end of the spectrum but covering the same demographic, the tiny independent film Old Goats — now available on DVD from Music Box Films — is described on the movie's Facebook Page as "a gentle comedy about the indignities of aging." The movie cost only $5,000 to make, which means that multihyphenate Taylor Guterson wrote, directed, edited, and shot the movie himself over seven months with an all-volunteer cast.
It's a defining example of seeing an opportunity for a movie where none currently existed, and then using the actual inspirations in the actual film. Having met Bob Burkholder, Britton Crosley and David VanderWal on various short film projects, Guterson thought they had a unique, dry sense of humor, so he crafted the story of three unconventional 60 and 70-something retirees who live on the rustic Bainbridge Island (in Puget Sound near Seattle) around their own personalities and natural chemistry.
Old Goats uses the life experience of its cast to inform the direction of the film, and one gets the idea that each actor (using their actual names in the movie as well) is merely playing a heightened version of themselves. The film has a shaggy, improvisational quality to it, even though its reportedly scripted.  Sometimes the film seems a bit aimless, but there's always an unexpected moment or a great deadpan punchline ahead.
It doesn't have the sweeping quality of a Robert Altman film, but the revered director's penchant for overlapping dialogue is certainly a factor here, as is some amateurish acting. Again, this is all part of the film's charm. One of its most endearing qualities is its insistence to never reduce its cast — which is made up almost entirely of senior citizens — to the jokey cliches that they so often are in films like Last Vegas. Old Goats truly is a one-of-a-kind movie, and given the limited kind of stories told about this age group, its a wonder it exists at all.
The DVD includes 4 minutes of deleted scenes, Grandparents Movie Review, a very short cast feature, a 48-Hour Film Project short called Behind the Scenes of Twisted Love starring Burkholder, and a 5-minute tribute to Burkholder, who passed away last September.