"As much as she was beautiful, and had a beautiful voice and whatnot, there's other times where … there's a fire. There's not just a spark. There's an incredibly big fire within her that was gonna snap." – Fate Fatal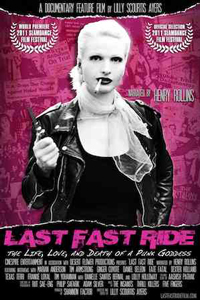 Visually unappealing and emotionally absent, it's difficult to see how director Lilly Scourtis Ayers intended to interest viewers in a fringe musical performer like Marian Anderson.
Ayers' film about the provocative punk rocker, Last Fast Ride: The Life, Love, and Death of a Punk Goddess, premiered at the 2011 Slamdance Festival and is out now on DVD, but it's difficult to see who the interested parties might be.
Last Fast Ride is an interesting story, and Marian Anderson's life is like Wendy O. Williams' combined with GG Allin. However, at no point does the film make you care. The impetus of any documentary is to get the viewer to understand as to why the subject is worth knowing.
Interviews with Anderson's friends reveal little in-depth information, and most of the real insight comes from the woman who runs Fantasy Makers, the club where Marian worked as a dominatrix. Strangely, you see Marian's mother's fingers and hear her voice as she flips through photo albums, but that's all you get – no name, no face.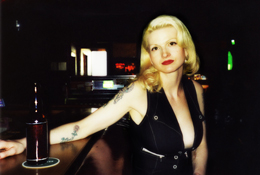 Last Fast Ride has a fuzzy effect added to the interview segments, which I assume is a way to make all of the old photos, grainy video footage, and the like all tie in visually. Unfortunately, it consequently results in a film that looks cheaply put-together.
The film also suffers from further lack of visual congruity, in that it jumps from fullscreen to widescreen to fullscreen in widescreen. The lack of any sort of consistency leads to a further low rent vibe in the film.
"Nobody's gonna fucking tell me what I can stick up my twat on stage." – Marian Anderson
Why interview Dexter Holland from The Offspring about one show they played with Anderson and the Insaints, just to hear a story about her peeing into the crowd? Where are all of the bands who regularly gigged with the Insaints? That would offer up something that belies the shocking image the film is allegedly attempting to subvert. You can't describe your documentary subject's childhood as "idyllic" in the press release, then present her sexual abuse at the hands of her "violent, alcoholic father" in the film's first five minutes.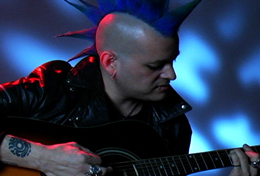 And once it gets to her relationship with partner Danielle Santos Bernal, it's essentially 15-20 minutes of someone talking about her girlfriend on film. There's little in there that justifies the length of screen time it takes up. "Marian had a juicer. She made me fresh juice all the time." That's important documentary footage?
Last Fast Ride has a slew of details one would expect to make for a fascinating documentary: a flawed but beautiful protagonist with a penchant for disrobing, and ample footage which displays said nudity.
Sadly, due to lackluster interviews, emotionally vacant onscreen talking heads, and an unflattering visual display, what is supposed to celebrate the life of Marian Anderson fails to elicit any sort of interest from a viewing.