Kuroneko (1968), new out on The Criterion Collection Blu-ray and DVD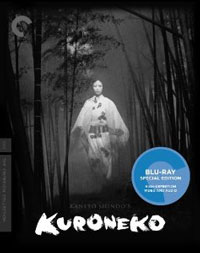 Every J-horror movie that features some kind of vengeful ghost owes a debt to Japanese director Kaneto Shindo. His 1968 film Kuroneko (which translates to Black Cat) is one of the best supernatural horror tales ever made, and it has tons of spooky atmosphere to spare. The Criterion Collection Blu-ray and DVD of this horror classic have just been issued.
Set in Japan's Sengoku (or Warring States) period, Kuroneko starts with a shock right off the bat. Presented in as realistic fashion is the brutal rape and murder of a widow (Nobuko Otowa) and her daughter-in-law (Kiwako Taichi) by a horde of hungry, feral men returning from battle who resemble animals more than the samurai that they are. A black cat licks the wounds of the dead women, whose bodies remain strangely intact after the swordsmen burned their house to the ground.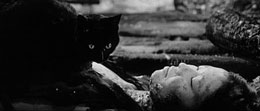 Three years later, something mysterious is killing samurai who approach Rashomon Gate. Kaneto Shindo is a master of using light, shadow, and staging to create an otherworldly quality and when he throws in a subtle trick like a woman's ponytail moving like a cat's tail, it only adds to the creepiness.
It's the imagery and the spooky feel that stick with you from Kuroneko. There are several signature moments, such as slow-motion shots of ghosts hurtling through the air doing back flips in the darkness and the ever-present fog that's always rolling across a meticulously symmetric frame.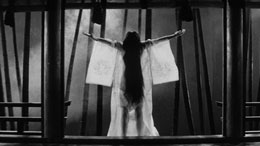 Kaneto Shindo also injects a huge amount of erotic tension into the film, and doesn't shy away from a little bit of blood either.
In the plotting department, much more is revealed than the usual ambiguity of the most truly artful ghost stories, but even there Kuroneko surprises and delivers. This enchanting horror entry was lensed in widescreen scope by Kiyomi Kuroda, who also shot Kaneto Shindo's other horror masterpiece Onibaba, but he gives Kuroneko a far more graceful and beautiful look.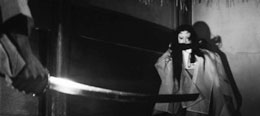 Hikaru Hayashi's percussive score and the use of silence by Kaneto Shindo are key in creating this kind of atmospheric suspense, but there are also plenty of shocks as well. The movie doesn't cop out at the end either, with a tough resolution that would spin even Freud's head.
The Criterion Collection DVD and Blu-ray don't offer a commentary track, but there is a (somewhat dry but informative) video interview with director Kaneto Shindo from the Directors Guild of Japan and a new video interview with critic Tadao Sato.