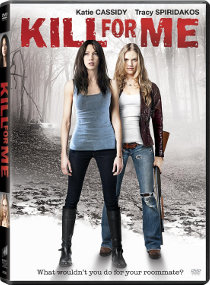 Kill for Me DVD Review
Would you kill for someone you just met? Kill For Me starts out as a basic thriller involving a pair of new roommates, Amanda (Katie Cassidy) and Hailey (Tracy Spiridakos), involved in some PG-13 college lesbian experimentation and the accidental killing of Amanda's abusive ex-boyfriend (Ryan Robbins). Despite the fact the death is an open-and-shut case of self-defense, the two girls decide to hide the body. And that's where things begin going downhill very quickly.
Kill For Me devolves into a series of twists, each more inexplicable and illogical than the last, as Hailey's true motives become harder to discern as she goes to extreme lengths to blackmail her roommate and lover into helping Hailey seduce and kill her abusive father (Donal Logue). Given it's ridiculous final hour, the film's only saving grace is it's relatively short running time — 95 minutes.
The only extra included on the DVD is a 13-minute behind-the-scenes featurette on the making of the film featuring cast and crew interviews from the set.
[Sony Pictures Home Entertainment]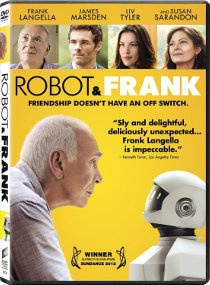 Robot & Frank DVD Review
Set in the near future, Frank Langella stars as a a grump old ex-jewel thief with early onset Alzheimer's who learns valuable lessons about life, friendship, and family when his resentful son (James Marsden) and absentee daughter (Liv Tyler) procure for their old man a personal robot.
At first Frank is resistant to the idea of sharing his home with a robot, but when he discovers his computerized friend (voiced by Peter Sarsgaard) has all the skills necessary to help him resume his criminal past he warms to the idea rather quickly. Susan Sarandon also has a small role as the town's librarian, and Frank's love interest.
Langella's performance is the standout of the piece in this in this cute but schmaltzy tale that stumbles at times with bigger themes. The film works best when it focuses on Frank's ability to manipulate those around him, including his robot, to always get what he wants. Robot & Frank is a flawed but nonetheless enjoyable film fans of offbeat heist films (such as myself) may enjoy. For more read my original review.
The DVD includes commentary from director Jake Schreier and screenwriter Christopher D. Ford as well as a poster gallery.
[Sony Pictures Home Entertainment]