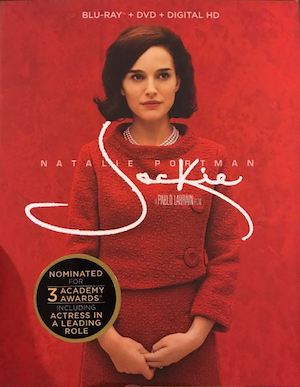 [Rating: Solid Rock Fist Up]

Rightly so, Jackie — out now in a new Blu-ray/DVD combo pack that includes a Digital HD download — arrived on the scene during last fall's awards season with a huge amount of buzz.
Much of it was centered around the transformation of star Natalie Portman, who tuns in a prickly, multilayered performance as the most famous widow of the 20th century, Jacqueline Kennedy. On the outward side of things, her spot-on makeup design and breathy, high-class Northeastern accent certainly help us forget that we are watching a famous actress, but it's the odd mixture of grief and aggressiveness she portrays that really embed us in the surreal moments directly following the assassination of her husband.
Jackie is indeed a wrenching examination of John F. Kennedy's assassination and its immediate aftermath, but it's more than that. It depicts the title character's struggle not just to cope with an awful tragedy after bearing personal witness to it, but her ability to pivot during the toughest of times and refocus on preserving the legacy of JFK's presidency.
Director Pablo Larrain sets a haunting tone that is miles away from mainstream Hollywood filmmaking, and its what makes the film so special. One of the biggest reasons that the Oscar chances of Jackie in any category began to slowly fade during the season was that it's essentially an art film. As it was released in theaters during the Christmas rush, the built-in audience (anyone who lived through that shocking somber period in American history) that went out to see it was probably expecting a typical biopic, with an easily accessible and familiar plot structure, and a nice, tidy lesson to be learned.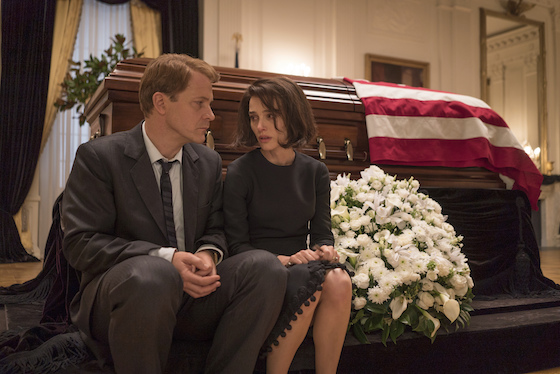 What they got instead was a complicated portrait of a complicated woman, centered mostly around the events of one fateful week, framed by a Life magazine interview (with Billy Crudup as Pulitzer-winning journalist Theodore H. White) at Hyannis Port as well as flashbacks to the 1962 broadcast TV special "A Tour of the White House with Mrs. John F. Kennedy." Why does screenwriter Noah Oppenheim's script spend so much time looking at the behind-the-scenes machinations of two of the era's most famous media profiles?
Because Jackie is as much about myth-making as it is an examination of grief.
In the direct aftermath of the shooting, there are power struggles abound. Several men in the White House, including newly sworn in President Lyndon B. Johnson's "special assistant" Jack Valenti (Max Casella) — who would later go on to serving as longtime president of the Motion Picture Association of America — try to minimize her role during the transition and take away any agency she might have in directing the scope and extent of her husband's funeral. She'll have none of it.
And for anyone worried that this film would be some sort of rosy view of what is widely known now to be a troubled marriage, there are several scenes with Jackie revealing her conflicted feelings about their relationship to a character simply named The Priest, played by the late John Hurt. Like the interview with White, these wide-ranging and difficult conversations deepen Jackie's conflicted nature and form the crux of what makes this portrait so compelling. Those looking for easy answers to who Jackie really was during this time will be sorely disappointed. Oppenheim and Larrain present a woman full of contradictions and way smarter than a silly broadcast TV special ever gave her credit for.
Maybe because of the lack of resemblance to JFK's younger brother Attorney General Robert F. Kennedy, it's more difficult to forget that he's being played by Peter Sarsgaard than it is Portman as Jackie, but it's not distracting from the theme of this powerful movie.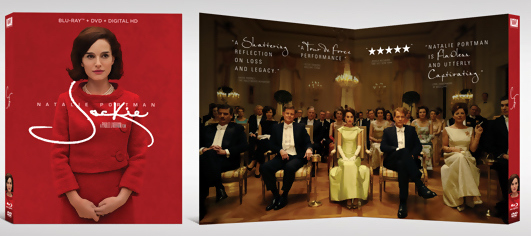 Larrain's fluent long takes (shot on 16mm film to presumably match more effectively the generous amount of archival footage that is included) and the mysterious sliding strings of Mica Levi's Academy Award-nominated score give Jackie a surreal tone that convincingly portrays this woman's mental state as well as that of the country during this time. Jackie isn't standard biopic fare, but instead a hugely resonant examination of conflicting emotions, grief in the spotlight, and the blurry lines between real people and myth-making.
This new Blu-ray/DVD combo pack come in a handsome slipcase with a foldout photo and some sharp graphic design, but it unfortunately doesn't have a lot of extra features. A 22-minute EPK called From Jackie to Camelot (with the expected amount of cast and crew interviews) is included on the Blu-ray itself. Bafflingly, the director's commentary track is not available on the Blu-ray itself but only when you redeem the digital copy of the film via the provided code. That is truly ridiculous and I hope it's not a sign of things to come in future Blu-ray releases.