This review originally appeared in shorter form on KSNT-NBC, KTKA-ABC, and KTMJ-FOX, Kansas First News.
The Greek mythology action movie Immortals and George Clooney's The Descendants grossed about $80 million each at the box office. Both are new out on Blu-ray and DVD.
Immortals (2011)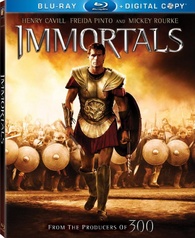 In the violent, sword-and-sandal epic Immortals, Greek Gods like Zeus, Athena, and Poseidon intervene in the affairs of mortals when the evil Hyperion (played by Mickey Rourke) goes on a search for a magical bow—or something like that.
Immortals is just under two hours of nonsensical plot and violent action with some of the most amazing-looking, computer-enhanced shots ever.
Director Tarsem Singh (The Fall) and screenwriters Vlas and Charley Parlapanides aren't terribly worried about the accuracy of their story within the Greek pantheon, which I have no problem with necessarily. But beyond the simple idea that Gods intervened in humans' lives on a regular basis, there isn't a lot of interesting stuff to chew on in the script. It moves from one amazingly framed camera setup to the next with no forward motion or feeling of consequence.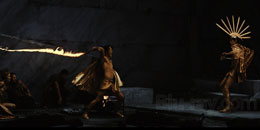 This movie was Tarsem Singh's attempt to create what he terms in one of the extra features  "Caravaggio Meets Fight Club," which was an inspired idea. Even though Immortals was marketed as being from the producers of 300, there's no way Zack Snyder's movie can hold a candle visually to Singh's. Everything from the costume design to the cinematography is surrealistic and inspired. It renders the visual  style of the new Clash of the Titans series completely inert.
It looks and sounds incredible on Blu-ray, especially with 5.1 DTS Audio, so you can take comfort in the aesthetic beauty of it all while you try to figure out why the story is so lifeless. (There is also a 3D Blu-ray on the market.)
There are a couple unused endings and an unused opening, as well as eight deleted scenes. A 20-minute, four-part making-of feature covers Tarsem Singh's vision for the movie, and a silly 5-minute featurette has scholars talking about Greek myths, which is ironic considering what Immortals does to many of them …
The Descendants (2011)
The Descendants, on the other hand, is a comic drama in a very minor key. George Clooney does some of his most subtle work in this touching movie from Oscar-winning screenwriter/director Alexander Payne.
For a movie about a guy with all the extreme pressures Clooney has on him in The Descendants, it maintains a pretty even balance.
None of the comedy is too over-the-top, and the drama seems real rather than manipulative.
That kind of filmmaking is rare, and even if you saw this one in the theater, it's definitely worth repeated viewings.
The Blu-ray contains two deleted scenes with introductions by Alexander Payne, six behind-the-scenes featurettes, two featurettes about Hawaiian history, and a 12-minute conversation with George Clooney and Alexander Payne.
No commentary track is included, which is kind of a bummer considering that Jim Rash (the Dean from NBC's Community) is now an Oscar-winning screenwriter for this movie. It would have been a hoot to hear he and his partner Nat Faxon do a commentary with Payne, who wrote the final draft.
Here's my original full-length review of The Descendants.