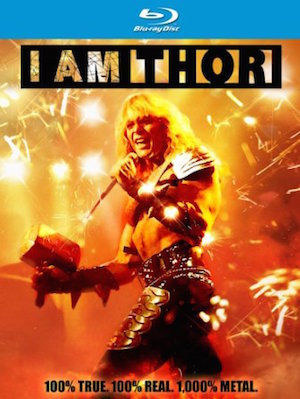 [Minor Rock Fist Up]
There's a sadly effective device in the documentary I Am Thor, out now on Blu-ray, where director Ryan Wise flashes a reverse countdown of sorts up on the screen every so often: "Two years into the comeback."
"Nice guy" Canadian bodybuilder-turned-stripper-turned-heavy-metal-rock-star John Mikl Thor decides one day in the mid-1990s to try to regain a sliver of the fame he had in the crazy, sexed-up 1970s.
He split with his wife, he can't keep a band together, and he's met with almost uniform indifference wherever he plays, be it an empty club, a hotel conference room, or a house party. And it comes again: "Six years into the comeback."
Thor is a throwback to the glory days of theatrical rock. He has some self-awareness of the ridiculous nature of his act, which includes bending steel with his bare arms, breaking bricks on his chest, blowing up a plastic bottle like a balloon until it bursts, and bringing on a giant hammer onstage and yelling: "I am the warrior of the universe!"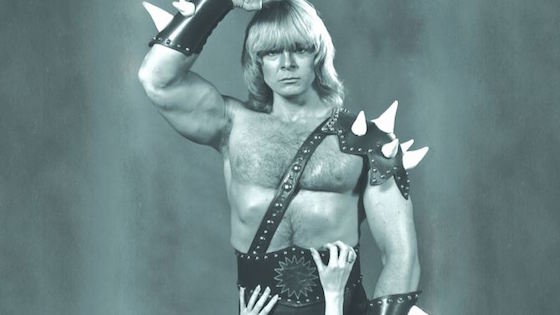 It's probably hard, however, to sense in the moment the bitter irony of that act, especially when you are in physical pain, such as the time he's warming up and he stretches his arms out wide backstage. His cry of "I am the warrior of the universe!" is followed by a real cry as he doubles over in pain. "Oh fuck, my back. I think I pulled something."
Eight years into the comeback, the always ebullient Thor, who barely resembles the muscleman of the 70s, is wondering "What does it take?" and we're wondering the same thing. The problem is it's hard to have a comeback when you never had a hit song in the first place. The first 20 minutes of I Am Thor document his fascinating rise to (almost) power, and could have made up an entire doc on their own, especially the part about how dueling managers conspired to kidnap Thor while he had an album on RCA Records. Somehow whoever kidnapped him gained leverage over the other manager by keeping their star on ice during a time when public appearance were crucial. Wise lets his subject off the hook too easily here and during a couple other moments.
It's hard not to. Thor is clearly in denial, but he has endless enthusiasm. He's always looking on bright side, especially when he says that he's finding "love is more powerful than the hammer" when he marries two fans at their own personalized laser show, or "competes" in a kickboxing tournament in character to raise his profile.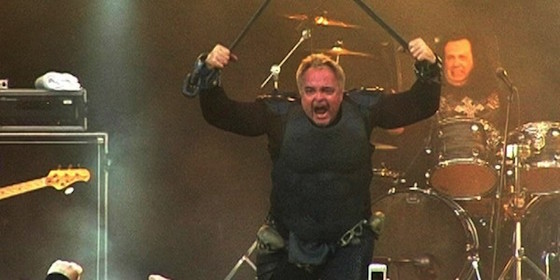 I Am Thor isn't as skillfully put together as the very similar Anvil! The Story of Anvil (and it recycles the "happy ending" of that film almost to a "t"), but it has undeniable appeal as a strange glimpse of what used to be mainstream and what is now a very small subculture. Also, what does Thor do to make a living? At least in Anvil we saw band leader Lips delivering school lunches in a van for a living.
I'll admit to a certain amount of bias: I grew up on heavy metal in the 80s, and I remember seeing stories about Anvil and Thor, but they were never records I could find to buy. This insular world of rebellious silliness and excess will never happen again, especially on the age of the Internet, so there's a certain amount of sweet nostalgia I have for stories set in this era. It happened in a bubble, and it was deliriously fun while it lasted, but with the modern communication age as it is, the metal scene as it was now seems so wonderfully quaint.
It's an absolute shame that the I Am Thor Blu-ray contains zero extra features, save for the trailer. It seems that there is so much more of the story to tell, especially since (as far as I can see online), Thor is still at it, trying to remember which part of his costume goes on first, the skulls or the breastplate?