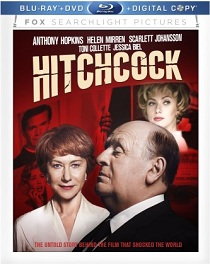 Hitchcock (2012)
When the movie Hitchcock opened amid the heat of Oscar fanfare last year, I think that many people where expecting a heavyweight drama, considering Anthony Hopkins was playing the Master of Suspense himself and Helen Mirren played his creative partner and wife, Alma Reville.
The film is at least partially based on Alfred Hitchcock and the Making of Psycho by Stephen Rebello, but rather than go strictly for suspense, it carries a playful, dry tone that's very similar to the opening of his anthology TV show Alfred Hitchcock Presents. Hopkins addresses the audience directly during the opening over a cup of tea outside serial killer/grave robber Ed Gein's house, who was the inspiration behind Psycho, Robert Bloch's controversial new book — which Hitch is dead set on adapting as his next film, against the advice of virtually everybody he knows.
Hitchcock tells two concurrent stories: The first is the director forging a new path creatively and illustrates how risky the venture was, considering how many personal financial assets he and Alma put up just to make sure Psycho even happened. The second story opens up an emotional rift between he and Alma as she finds respite from Hitchcock's coldness in collaborator/screenwriter Whitfield Cook (Danny Huston).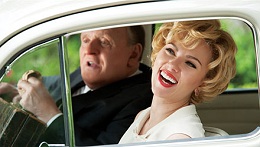 The Cook/Reville subplot is pretty standard stuff, so the movie is pretty lopsided, but the behind-the-scenes stuff surrounding Psycho is very compelling, even if it's not 100 percent true. Director Sacha Gervasi employs a light touch all around, and seeing the period recreated on this scale (especially Scarlett Johansson as Janet Leigh) is eminently enjoyable.
The Blu-ray as a healthy bunch of extra features including feature commentary with Gervasi and Rebello, a 30-minute making-of documentary, and several short featurettes covering everything from the film's Oscar-nominated makeup work to cell phone footage shot by Gervasi on set.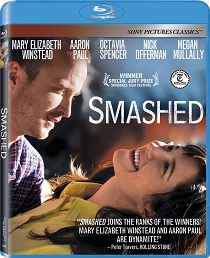 Smashed (2012)
A very frank indie film about a functioning alcoholic married couple (Mary Elizabeth Winstead and Aaron Paul), Smashed has a refreshingly modest goal: emotional honesty. Director James Ponsoldt keeps the movie focused on the day-to-day tribulations as Winstead, an elementary schoolteacher who drinks a flask in the shower each morning before work, slowly wakes up to a reality she's never seen clearly before.
Smashed is a non-judgmental snapshot of the small world surrounding this couple, and is filled with insightful moments and really great low-key performances from actors like Octavia Spencer, Nick Offerman, and Aaron Paul. The entire movie, however, lives and dies on Winstead, who gives young schoolteacher Kate a great deal of depth.
It may not plumb the dark depths of similar alcohol-abuse-related films and it may hit several story beats that seem familiar, but Smashed works, in large part due to its unwavering sincerity.
Winstead and Ponsoldt talk about all aspects of Smashed on the feature-length commentary, there's 10 minutes of deleted scenes, a 12-minute making-of doc, and a 14-minute  cast and crew Q&A during the red carpet and after its screening at the Toronto Film Festival.