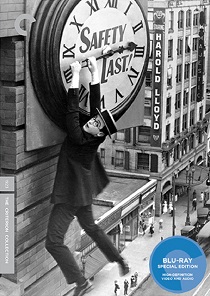 Poll the average moviegoer and I'll bet they know about the iconic silent-movie scene where a man hangs precariously from the hands of a clock. Press them for details and they might even say they think its Charlie Chaplin. Perhaps they'll remember, however, that it wasn't The Tramp scrambling for his life and mention the other titan of silent comedy Buster Keaton.
Of course, the man in question is neither of those titans of silent comedy, but instead Harold Lloyd, to whom a two-part documentary on The Criterion Collection's new Blu-ray of Safety Last! refers to as the " the third genius." Safety Last! is the movie that contains the infamous clock scene, tributed by Back to the Future and recently in Martin Scorsese's wonderful silent-film love letter Hugo, and it stands as Lloyd's best-known movie.
Viewing Safety Last! today, the film stands up as a briskly paced thrill comedy with memorable gag after memorable gag, and a surprising dark streak. If the Coen brothers had been around in 1923, they might have also poked fun at the absurdities of having a bottom-rung job in the big city: the high-rise buildings and teeming crowds of people, the old biddies in the department store, petty middle managers who revel in cutting down their subordinates.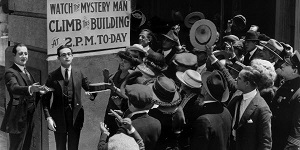 The movie even opens with a bit of gallows humor, as "the Boy" (Lloyd in his "glasses character") is framed behind bars and — as the camera pans out — a noose is viewed in the foreground. A wider pan reveals that the noose is a pickup hoop and The Boy is actually at a train station about to depart for a job in a department store, hoping to send for The Girl (Mildred Davis, whom Lloyd married in real life soon after filming) after he's made his fortune. Plucky as The Boy may be, though, this turns out to be tougher than he realizes.
Safety Last! has a consistent string of very funny gags as the small-town Boy tries to get ahead by honest means and somehow keeps getting into hotter water, but the film really picks up steam once he comes up with a brilliant marketing plan to attract a huge crowd to the store. The idea for the masterfully mounted final act of the film ("As a piece of comic architec­ture, it's impeccable," says Orson Welles in a quote from Ed Park's excellent essay included in the Blu-ray/DVD package) came about this way: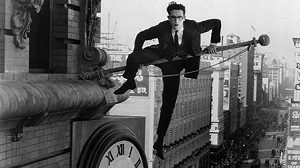 Lloyd witnessed a man named Bill Strother scale a building one day on his way into work and was fascinated by his own visceral reaction and the similarly transfixed throng of people below. This was the height of the "human fly" craze, and Lloyd realized he had to utilize this concept for a "thrill picture." He hired Strother to do his thing in the film, casting him as The Boy's roommate and worked with his gag men (including directors Fred Newmeyer and Sam Taylor, co-writer Tim Whelan and co-writer/producer Hal Roach) to create a third act that put the unsuspecting Boy in similar danger, and film it in the most realistic way possible.
His climb up the side of the fictional 12-story Bolton Building adds to the knee-jerk thrill element of the "human fly" a series of gags that plays off the mounting danger brilliantly and culminates in an even more dangerous scene than dangling from the clock!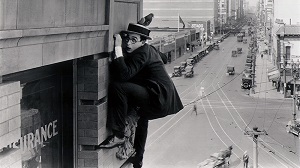 Yes, there is an extra prick of instinctive excitement in watching Safety Last! today because we know quite well that computer-generated effects didn't exist in 1923. Besides the creative and thrilling staging of his building climb with an actual cityscape in the background (not a matte or a composite shot), the rest of Safety Last! is filmed with a real cinematic eye and the newly restored 2K digital film transfer looks fantastic.
Included in this impressive Criterion Blu-ray are two scores for the film (one from 1989 and one from the late 60s), an audio commentary with Harold Lloyd archivist Richard Correll and Leonard Maltin, and an introduction by Lloyd's granddaughter. A new documentary explains some of the secrets of how the high-flying stunts in Safety Last! were shot. There's a spoiler in the clip below, if you feel like you must know right this second …
After viewing Safety Last!, I had to know more about Lloyd. Luckily, Criterion's Blu-ray also serves as an introduction and overview of Lloyd's career and I devoured the extra features. The 108-minute documentary Harold Lloyd: The Third Genius (part of the American Masters PBS series, originally aired in 1989) is included, as well as three newly restored Lloyd shorts: Take a Chance (1918), Young Mr. Jazz (1919), and His Royal Slyness (1920). The shorts are all terrifically entertaining and show a master gradually working up to something bigger, both in budget and scope.
Safety Last! was Lloyd's fourth feature-length film, and at his peak he was as a big a star as Chaplin or Keaton and a huge box-office draw. The supplemental material contends that the reason his work isn't as well known is that he retained the rights and never allowed TV to run his films are rarely let them out for revivals. Whatever the reason, Safety Last! proves that there is a lot more Lloyd worth exploring.