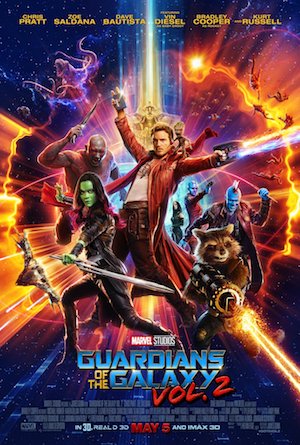 [Rating: Swiss Fist]
Oh, the curse of the sequel.
In 2014, writer-director James Gunn's Guardians of the Galaxy re-invigorated the Marvel universe with its sarcastic sense of humor, candy-colored art direction, and anachronistic '70s pop soundtrack that became an unlikely hit album in the real world.
Three years later, all of those elements are back in Guardians of the Galaxy Vol. 2—they just don't feel as fresh anymore.
The first film was about a bunch of outer-space outsiders who come together as a team and form the first real family any of them have had. It's natural then, that the screenplay for Vol. 2 should test the strength of that family, and it does. Only this time, the emotional story beats are overwritten, forcing corny dialogue into the actors' mouths and lingering too on long on those moments. More than its predecessor, Vol. 2 is designed to leave no audience member behind, to its detriment.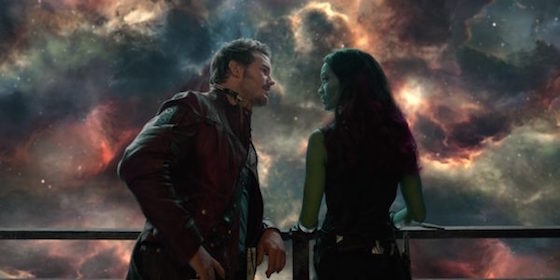 Wisecracking half-human Peter Quill (Chris Pratt) has daddy issues. Green-skinned alien Gamora (Zoe Saldana) has sister issues. Rocket, the talking raccoon (a very convincing CGI character voiced by Bradley Cooper), has trust issues. In the first film, these concerns were seamlessly baked into the plot and theme, in concert with Gunn's smart-aleck, B-movie, space-opera aesthetic. This time out, these issues struggle for screen time with an enormous amount of exposition, and they come off unbalanced and pretty unconvincing.
There's still a lot of fun to be had, however, and franchise stalwarts might want to consider seeing Guardians of the Galaxy Vol. 2 in 3D. Two or three action scenes in particular have a distinctly impressive visual flair and seem to be designed with that viewing experience top of mind rather than as an afterthought. That's a welcome break from the approach of most big-budget fantasies these days.
Gunn's exceptional vision and the movie's disarming humor (with some themes and jokes sprinkled in for adults only) make this a universe worth returning to. But just like Fats Domino's "Let's Twist Again," Guardians of the Galaxy Vol. 2 can't play the same familiar chords with lesser lyrics and expect the same results. It isn't quite the revved-up rallying call for outcasts that the first one was, so this sequel is best approached with lower expectations.
This review is part of Eric Melin's "LM Screen" column that appears in the summer 2016 edition of Lawrence Magazine.