This review originally appeared in shorter form on KSNT-NBC, KTKA-ABC, and KTMJ-FOX, Kansas First News.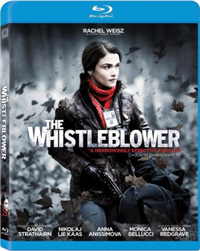 The Whistleblower (2011)
New out on Blu-ray and DVD this coming week is The Whistleblower, a brutal thriller based on a true story about human trafficking among UN peacekeeping forces in Bosnia.
Oscar-winning actress Rachel Weisz is very good as an ordinary police officer from Nebraska who is suddenly up against powerful people and lots of money.
The premise and conspiracy to cover it up is compelling enough material for the entire film, but as it progresses, The Whistleblower goes off the rails a little —  I guess in an attempt to create more drama out of an already dramatic situation.
As the plot devices pile up towards the end, it's a bit frustrating because there's a good movie in there somewhere. What's worse, the only piece of bonus content on the Blu-ray and DVD is a short featurette purportedly about the real whistleblower, Kathy Bolkovac, but she is rarely shown and it ends up being more about Rachel Weisz.
This Blu-ray and DVD could have been way more compelling with some extra features that went more in depth into the real story of the UN coverup. The next Blu-ray reviewed below is certainly overflowing with great extras …
Traffic (2000)
Also new out on Blu-ray is Traffic, the movie that won director Steven Soderbergh and star Benicio del Toro Oscars.
In terms of modern films, it kicked off a whole list of issue-related multi-character dramas like Syriana, Crash, and Babel—and it may be the best of all of them, even if some of its stories are stronger than others.
Traffic focuses on the war on drugs—an issue that's even more timely today than it was 12 years ago.
Benicio del Toro steals the film as Tijuana police officer who is constantly struggling to do the right thing in a war where moral certainty doesn't seem to exist. Each storyline in the movie has its own specific look and color hue, and the entire film was shot by Soderbergh himself, as most of features have been since then.
Don Cheadle is excellent as as a DEA agent trying to keep a drug cartel witness safe, and Michael Douglas is earnest as hell as the newly appointed drug czar. Douglas is the audience's window into the  U.S.'s progress, or lack thereof, into even causing a dent in the drug trade. A subplot involving Erika Christensen as his drug-addicted daughter stretches credulity, if only for its lack of development, but the movie would have suffered from a longer running time.
This Criterion reissue is full of excellent bonus content, including a huge amount of deleted scenes. All of them add depth to the story, even if they were right to be left out, but the ones spotlighting Catherine Zeta-Jones give a lot more credibility to her character's change.
The Blu-ray features three audio commentaries, 25 deleted scenes with optional commentary by Steven Soderbergh and screenwriter Stephen Gaghan, additional unused footage of various scenes from multiple angles, and three sets of demonstrations — one on film processing and the look of the Mexico sequences, one on film editing with commentary by editor Stephen Mirrione, and one on dialogue editing.
It's almost like going to film school.