Check out videos of all my movie reviews on KSNT-NBC, KTKA-ABC, and KTMJ-FOX, Kansas First News.
High-definition technology has allowed some of the most influential films of all time to be preserved forever. This weekend in home video, why not try a movie from two giants of classic cinema? Here's a review of two new Blu-ray and DVD re-issues from The Criterion Collection.
Rashomon (1950)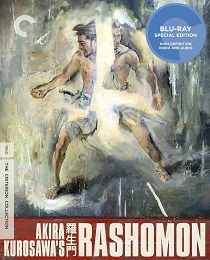 Akira Kurosawa's masterpiece Rashomon is as compelling and powerful today as it must have been over 60 years ago when it took the world by storm.
One of the most influential movies ever made, Rashomon takes place in 12th-century Japan and tells the story of a bandit tried for rape and murder. Each telling of the story, however, is from a different person's point of view and no version is completely compatible with the other.
Rashomon, starring Kurosawa regular Toshiro Mifune, explores a theme that never gets old and never fails to start conversations—what exactly is truth? Is there only one version? And how does human weakness alter one's perception of the truth?
The new Criterion Collection edition of Rashomon not only features a new digital restoration of the film , but tons of first-rate extras inclusing an audio commentary by Japanese-film historian Donald Richie, and interview with director Robert Altman, an audio interview with actor Takashi Shimura, and excerpts from The World of Kazuo Miyagawa, a documentary on cinematographer Kazuo Miyagawa. Also included is the feature-length documentary A Testimony as an Image, featuring interviews with the cast and crew.
Weekend (1967)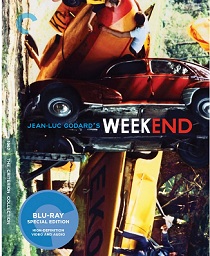 If Rashomon is timeless, however, Jean–Luc Godard's vitriolic Weekend is absolutely a product of its time. Full of tons of dated literary and cultural references from 1967, Weekend is a dark and angry comedy that strings together a series of seemingly unrelated but symbolic events on a French highway.
Call it what you will, Weekend is a tough watch. And it's meant to be. Music overlaps dialogue at inopportune times. Its characters are one-dimensional selfish jerks and speak to the audience randomly, addressing the fact that they're in a ludicrous film.
It's all meant to be a vicious takedown of middle-class life in the late 60s, but much of it is incomprehensible today.
Still, if you want to see absolute anarchy portrayed on film, you'll do no better than Weekend.
The Criterion Blu-ray features a new digital restoration and extras like archival interviews with actors Mireille Darc and Jean Yanne, cinematographer Raoul Coutard, and assistant director Claude Miller. Also included is an excerpt from a French television program on Jean-Luc Godard, featuring on-set footage. All of this is needed to put the film in the proper historical perspective.