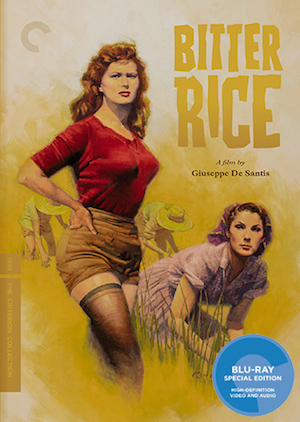 [Solid Rock Fist Up]
When I first saw the Criterion Blu-ray cover art for the 1949 Italian film Bitter Rice (Riso Amaro), featuring a busty young woman front and center next to another woman bending over in the rice fields, I thought: Wow, this is some kind of lurid masterpiece I've never heard of. I can't miss this! Then I read the blurb on the back cover:
"During planting season in Northern Italy's Po Valley, an earthy rice-field worker (Silvana Mangano) falls in with a small-time criminal (Vittorio Gassman) who is planning a daring heist of the crop, as well as his femme-fatale-ish girlfriend, played by the Hollywood star Doris Dowling. Both a socially conscious look at the hardships endured by underpaid field workers and a melodrama tinged with sex and violence, this early smash for producer extraordinaire Dino De Laurentiis and director Giuseppe De Santis is neorealism with a heaping dose of pulp."
Huh? It's that last sentence that makes no sense.
In my mind, Italian neorealism is the polar opposite of pulp fiction or film noir. This film movement tries to approximate daily life as close to real as it can get. It's filmed on location, mostly outdoors, not in the hyper-stylized world of noir shadows and lighting. The acting in neorealism is low-key and the moments of drama come from the day-to-day struggles of its characters, not from archetypes like the femme fatale.

As you have probably figured out by now, Criterion did not steer me wrong. In fact, Bitter Rice is an extraordinary combination of all the things listed above. Granted, there are less scenes in the shadows than a more traditional noir, but there's certainly a crime element, and all the main characters get wrapped up in high-stakes situations because they are following their passions and not their minds. Even when I feared there would be only melodrama but no gunplay, the overheated finale didn't disappoint on either count.
Working in the fields is hard and noble work, as Bitter Rice later shows. But it also relies on that old chestnut of 1940s social problem movies, the newsreel voiceover. At the film's opening, this comes in the form of a radio announcer, which would normally signal scenes of stock footage. There may be some of that to set the scene, but its soon scuttled.
From there, director Giuseppe De Santis and cinematographer Otello Martelli (La Dolce Vita) imbue this tale of female rice workers with a dose of the fantastic. Exaggerated camera angles and long tracking shots give a sense of nobility, of importance to the plight of the workers, even as these two thieves enter their midst. Silvana Mangano is obviously a movie star, introduced with the flourish of someone like Rita Hayworth, at the tail end of one of those tracking shots, in a dance sequence that feels out of place at first. She locks eyes with Vittorio Gassman, who is clearly up to no good, and we're in noir territory. But the scene gradually settles into the reality of the film and becomes what it is to the rice workers — a rare moment to let off some steam.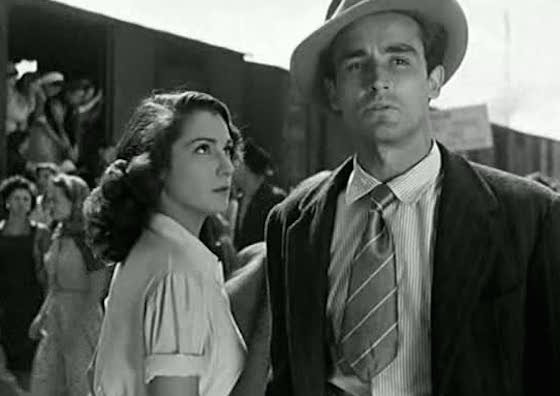 There are multiple subplots, and scenes of behind-the-scenes camaraderie on the part of the women that threaten to detract from the main storyline, but the extra color is actually welcome. It strengthens would could have otherwise been a hard-to-swallow rivalry/friendship between Mangano and Doris Dowling. As a weird precursor I suppose, Gassman even has shades of the impulsive Jean-Paul Belmondo in Breathless, another connection I would never have guessed possible.
There is so much to be learned from Bitter Rice, even today. It is a perfect surprise, proving how important and how much fun it is to discover older movies with fresh eyes. Criterion's HD restoration looks fantastic, and an hour-long 2008 documentary by screenwriter Carlo Lizzani on Giuseppe De Santis is a good history lesson. Also included on the Blu-ray is a 7-minute interview with Lizzani from 2003.
Criterion doesn't have a new trailer online, so here's an older one for reference. Image clarity, sound, and subtitles are all majorly improved from this, but at least it will give you an idea of what to expect: