This review originally appeared in shorter form on KSNT-NBC, KTKA-ABC, and KTMJ-FOX, Kansas First News.
A couple of movies with big Hollywood stars that skipped the normal theatrical release schedule are out on Blu-ray and DVD now: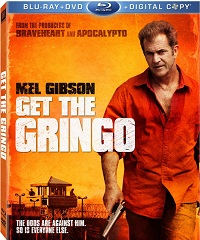 Get the Gringo (2012) a.k.a. How I Spent My Summer Vacation
There was a time when a new Mel Gibson movie was a big deal. But Mel's star has faded since his recent scandals and a new film written by and starring Gibson hits the U.S. on home video after a run in the Video on Demand market.
Get the Gringo is the usual violent, shoot 'em up affair that Gibson has become known for, featuring a revenge-bent anti-hero who stumbles into redemption. It's become a formula for Mel, who also co-wrote the screenplay. The main difference is that this movie takes place almost entirely in a sprawling, dangerous Mexican prison.
The plot is ludicrous, as Gibson befriends a 10-year-old with Daddy issues and tries to save the boy from—of all things—getting his liver stolen. Things start off a little too cute with that self-aware, annoying post-Pulp Fiction faux-clever tough-guy winking narration, but it kind of straightens up a bit once the story kicks in. A half an hour of behind-the-scenes extra features are all you get on the disc for extras though.
I can't say that Get the Gringo is entirely without charm — mostly because it's so bizarre.
Detention (2012)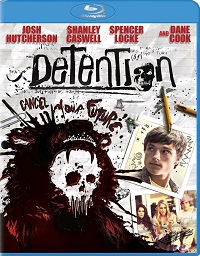 Speaking of bizarre, Detention is a fast-paced, throw-in-the-kitchen-sink high-school-set horror comedy with a confusingly large amount of time travel and body-switching. Meant to replicate the multimedia hectic life of modern high school kids, it was produced by and stars Josh Hutcherson, who rose to prominence earlier this year in The Hunger Games, and is written and directed by Joseph Kahn.
Detention has a kinetic visual style like Scott Pilgrim vs. the World but with none of the focus. It takes every kind of teen genre and grinds it all up into a frenzied mess then intertwines it with Internet and mobile-phone culture.
Sometimes the movie hits on an unexpected emotional truth via Donnie Darko, but mostly it's a lot of new pop-culture references (and a bunch from the 90s) that aren't as funny as the movie thinks they are. Still, it's hard not to admire the absolute commitment to a script that is very ambitious and totally bonkers in the plot department. And maybe its lack of focus is meant to reflect the scattered attention spans of its audience.
The Detention Blu-ray has something called "Cheat Mode," an entertaining and informative view that's as quickly paced as the movie, where the cast and crew comment on the action as the movie plays in a picture-in-picture format.