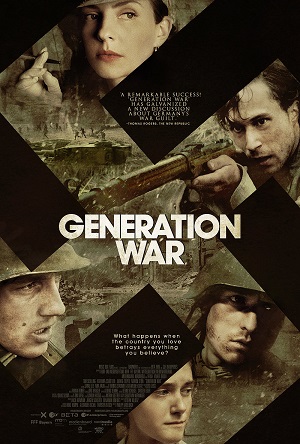 [Solid Rock Fist Up]
Let's get this out of the way.  If you're in any way a history buff or someone who enjoyed HBO's Band of Brothers miniseries, the bottom line is that you'll love Unsere Mütter, Unsere Väter (Literally: Our Mothers, Our Fathers, but the English title is Generation War).
Directed by Philipp Kadelbach (Hindenburg, The Secret of the Whales) and wonderfully written by Stefan Kolditz (Schatten der Gerechtigkeit, Dresden), Generation War provides a German perspective on the events of World War II through the eyes of five young people who experience the war in profoundly different ways.
A miniseries (out on Blu-ray and DVD now)  that spans three 90-minute episodes, and as I mentioned above, Generation War follows five young Germans–the brothers Wilhelm (Volker Bruch) and Friedhelm (Tom Schilling) Winter, Greta (Katharina Schüttler), Charlotte (Miriam Stein), and Viktor Goldstein (Ludwig Trepte)–as they go their separate ways.
The brothers are off to the Eastern front as soldiers in the Wehrmacht (German Army), Greta becomes a famous wartime singer that performs for the troops, Charlotte becomes a nurse in a combat hospital on the Eastern front, and Viktor… well, he's a Jewish tailor who must escape Germany to avoid the holocaust.  Greta and Viktor have a forbidden romance in the era of the Third Reich that they must conceal.  Wilhelm must struggle with his feelings for Charlotte, unable for some reason to tell her how he truly feels.  Friedhelm is a naive young man, whose parents expect him to be under Wilhelm's protection at all times.  As each of the quintet encounters the horrors of war, they learn things about the world and about themselves that they had never imagined.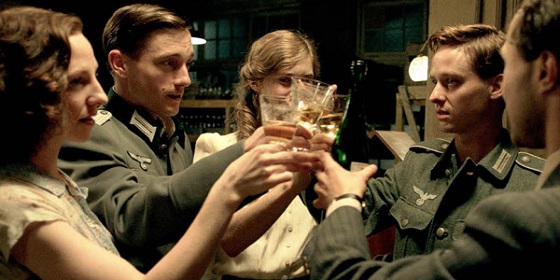 One of the great joys of the miniseries is Kolditz's writing.  He masterfully exceeds and warps your expectations at every turn possible.  When you're convinced that a scene will play out one way or the other, he surprises you with a third, more intriguing (and often more heartbreaking) choice instead.  There's a ton of content in each of the hour-and-a-half-long episode, but Kolditz keeps the plot moving along at just the right pace, rarely feeling like the action is dragging or too condensed.
Additionally, we see the all-too-familiar olive drab tones we've come to expect from most Second World War-era period pieces, however, where Generation War breaks our visual and stylistic expectations is in the sparing usage of archival footage within the series.  The series begins in mid-1941 and ends in June 1945, so it's obvious that the usage of some sort of transition is necessary, however using the archival footage to provide not only setting (i.e., distance from Moscow or Berlin, a part of Ukraine, etc.) information, but also with the voiceover of Wilhelm telling us the historical context of the war (for example, any given battle).  As someone with a background in history, this really helped to keep me invested in the big picture of the war, as well as the micro scale of the five main characters.
Understandably, there was a great deal of international criticism leveled at Generation War, with some arguing the portrayal of Polish anti-Semitism, and others claiming that it gives Germans of that generation an "out," but perhaps the best possible outcome was that it opened the door for this generation to describe their own wartime experiences within the context of difficult times, which is a theme that anyone from that era would understand.  Back then, you did what you had to do in order to survive, and Generation War certainly shows that human aspect quite well.  Every history teacher worth their salt teaches that there's a historical difference between "Nazis" and "Germans," and Generation War does a phenomenal job of showing the difference between the people who are caught up in the times and facing certain defeat, and the sick bastards that actually enjoy the murder and torture.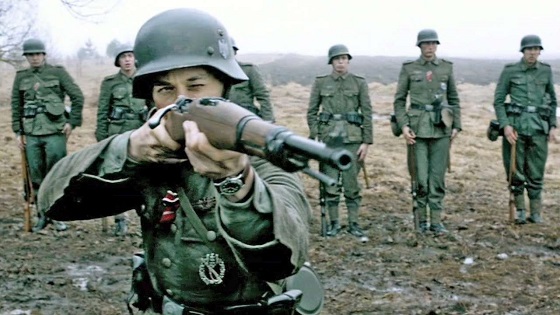 As far as DVD extras, the box set was disappointingly sparse.  We have a pair of trailers, a promotion for other studio works, and a very-obviously-scripted Q&A with the director and producer discussing some of the show.  There's honestly not much being said here, and that's disheartening, given that there's plenty to delve into in terms of the show and the controversy surrounding it.
Over all, I'd absolutely recommend picking this one up.  It's all in German, so if you're not into subtitles, I'm not sure what to tell you, but it makes for four and a half hours of exciting and intense television.  I watched the entire thing in one sitting because I just couldn't wait to find out what happened next.