Horror anthology films are pretty much the definition of a mixed bag. They usually boast a mix of great to sub-par horror shorts. Unfortunately with the Blu-ray release of the all-female helmed XX, it's not even a mixed bag.
The first film, tilted The Box is based on a short story by Jack Ketchum and directed by Jovanka Vuckovic. It follows a mother and her two children on a train. They see an old man, and the son, Danny asks to see what's inside the present he's holding. After looking he refuses to eat. While starting out with a good sense of dread, the story drags until a conclusion many will find unsatisfying.
The second film, titled The Birthday Party was directed by Annie Clarke, also known as St. Vincent. It stars Melanie Lynskey and is more of a dark comedy. It follows Lynskey's Mary frantically trying to hide her husbands body after finding him dead. This is all going on while getting ready for her daughters birthday party. The laughs mostly miss in this awkward tale.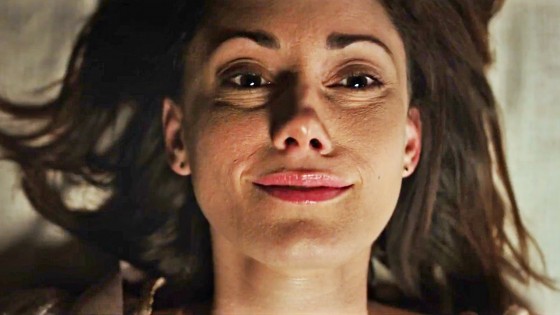 In Don't Fall, four hipsters camping out find themselves hunted. Written and directed by Roxanne Benjamin, it feels like a much more straightforward horror story. The group, consisting of two men and two women, stumbling on some ancient writings on the side of a rock. Later that night one of the women is attacked by a creature similar to what they saw on the rock. Before everyone else is aware of what's going on, they're all being stalked by a demonic monster. Throughout the film we're never given any connection to any of the characters, so when they become the prey, there's no reason to care.
The fourth film, titled Her Only Living Son, centers on a mother and her not-so-loving son. It was written and directed by Karyn Kusama and is probably the strongest of entries. Kusama directed the phenomenal horror thriller The Invitation in 2015. The mother slowly comes to the realization her son may be even more dangerous than the the warning signs have lead to believe. While the tension and drama give this short hope, it still feels unfulfilling by the end.
One of the most interesting parts of XX is the stop-motion animation that wraps around the film. It follows a small anthropomorphic dollhouse as it explores a creepy mansion. Directed by Sofia Carrillo, the attention to detail in this creepy bookend may make it the most unsettling part of the film.
If you are a fan of this unfulfilling horror anthology or if you're just looking for some redeeming qualities, the special features is where to find them on this Blu-ray. It features in-depth looks at what went into the making of each film. It also includes interviews with all of the directors rising in the ranks of true horror greats. Their passion for putting this anthology together is worth at least giving a chance and decide for yourself. However, it's hard to justify purchasing the Blu-ray if you're looking for serious scares. It would have been nice getting more satisfying conclusions to these short tales.