Boy could we use an Abraham Lincoln in today's divisive political climate. As played by Henry Ford in the 1939 film Young Mr. Lincoln, the future President of the United States of America is more than adept at bringing people together. Fonda's portrayal of Lincoln as a small-town lawyer with down-home eloquence and the uncanny ability to put himself in the shoes of others would forever cement the world's idea of the man.
The Criterion Collection has just released a new Blu-ray of Young Mr. Lincoln, made from a new 4K digital restoration that looks fantastic. Director John Ford is mostly known for his westerns, and certainly his post-Lincoln career would become synonymous with widescreen Technicolor landscapes of the American West, but this film, one of many collaborations with cinematographer Bert Glennon, was lensed handsomely in black and white. Where the script sometimes becomes a little tedious, the classically composed shots never do.
Although this film is a stone-cold classic, it does contain many of the trappings of 30s-40s era movies that haven't aged well, such as a corny original score and some broad jokes based on cliches that fall pretty flat. Still, the inherent decency and idealism that it projects is a welcome differentiator from the history-hardened, cynical stories told in film today.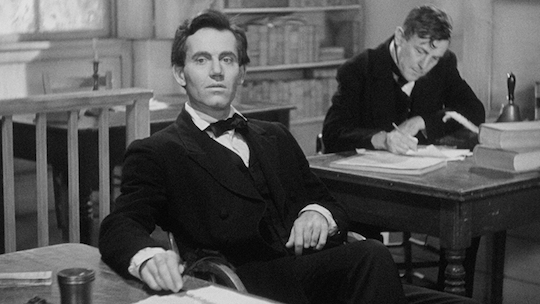 The story of Young Mr. Lincoln revolves around Lincoln's unique talents as a dealmaker. Illustrated through his everyday interactions with the people of New Salem, Illinois, his curiosity and natural embrace of intellectual thinking (another thing that seems to be lost in today's culture) brings him to study law. He opens up a small practice in Springfield, and his way with words and moral code of honor bring him to defend two accused (and presumed guilty) young men in a fictionalized version of an actual murder trial that the real Lincoln worked.
Modern audiences raised on Law & Order reruns will no doubt find the trial portion of the film quaint, but Fonda plays Lincoln with such calm, centered confidence that it's also a refreshing change of pace from the aggressive histrionics of today's cop/legal thrillers and TV shows.
Henry Ford really shines in this role, almost unrecognizable behind the the fine makeup job Ford's team did on his nose. His soft-spoken confidence and genuine affection for the people he talks to come across in every scene. Some of the attempts to connect the dots with the women in his life are both genuine and uncomfortable, which both ring true from what we know of the man.
This new Criterion re-issue contains a new feature-length audio commentary from film scholar Joseph McBride (Searching for John Ford: A Life). This track is full of interesting anecdotes and information on Ford and Fonda and will make any fan's experience watching Young Mr. Lincoln richer.
The other worthwhile supplements are carried over from the original 2006 Criterion DVD: Omnibus: John Ford, part one: filmmaker Lindsay Anderson's profile of the life and work of director John Ford before World War II, a talk show appearance by Fonda from 1975, audio interviews from the 70s with Ford and Fonda, conducted by the director's grandson Dan Ford, and an Academy Award radio dramatization of the film.