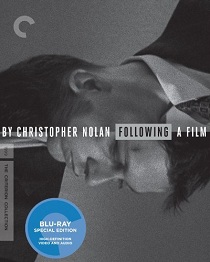 In 1998, a young British filmmaker wrote, directed, and shot his first feature film for roughly $5,000 dollars using 16mm black-and-white film stock.
10 years later, he would have the second-highest-grossing movie ever in America.
Following is Christopher Nolan's noir-tinged debut and, although the budget is infinitesimally smaller than The Dark Knight, what's really startling about Following is how many themes it has in common with the movies that would come to define him.
The Criterion Collection has just issued the little-seen film on DVD and Blu-ray with a new restored digital transfer, along with an audio commentary, an interview with Nolan, and a 1997 three-minute short called Doodlebug that shows the director having fun, but still thinking about sci-fi themes and concepts.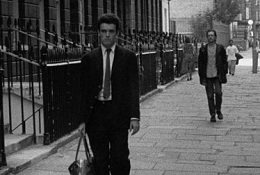 It's almost as is Following was the movie that gave Nolan the nerve to do something as adventurous as Memento, his breakout indie smash from 2000 — and one of the best films of the past decade. Like Memento, Following is a thriller that doesn't follow a linear narrative. An unemployed writer (Jeremy Theobald) starts following random people on the street, hoping he'll get some inspiration from observing their daily life. When a sharp-dressed man carrying a bag (Alex Haw) calls him on it, the two begin some criminal creeping of their own.
Fragments of the story come to us in a seemingly random order, with clues like Theobald's differing appearance (a haircut and shave, a black eye) as visual markers. Nolan's screenplay is air-tight, though, and designed for maximum suspense. To prove it (and in another echo of Memento — its special edition DVD), the Blu-ray and DVD contains a chronological edit of the entire movie.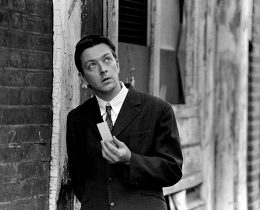 Besides the similarities in playing with time and structure (see also The Prestige and Inception), in Following, Nolan is already zeroed in on his favorite cinematic theme: obsession. The writer's obsession with following people leads him to the sharp-dressed man (who is named Cobb, by the way — more echoes of Inception). In turn, all his behavior changes, and he becomes obsessed with a woman. It all leads him to disregard the natural tendencies of his moral compass and he loses tough of who he was.
This theme runs through all of Nolan's work. He's just gotten better at making it more deeply felt and constructing more challenging approaches to telling his stories. Seeing Following now is a bit like listening to a demo tape of your favorite band's first album. You recognize all the songs, but they're not yet produced. All the pieces are already in place and with just the right adjustments and a better production, they could become a fully realized vision.
Following was Nolan's test run, and it works. It gave him the confidence to become the smart, boundary-pushing  director he is today.