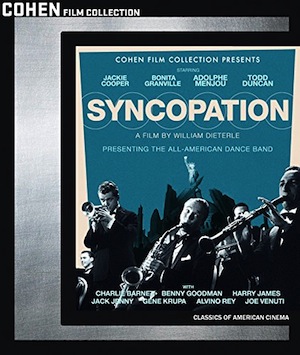 [Solid Rock Fist Up]
Casual jazz fans and jazz historians alike have much to cheer about this week as the 1942 film Syncopation hits Blu-ray on February 10, courtesy the Cohen Media Group.
This rare movie, a box-office bomb upon its original release, hasn't been available in any home video format for years, and this new version was restored in 2K from an archival 35mm fine-grain master, which was struck by the Library of Congress from the nitrate negative.
German emigre William Dieterle (The Hunchback of Notre Dame, The Life of Emile Zola) produced and directed Syncopation, and he cares at least as much about portraying the evolution of the first quarter century of American jazz as he does about telling a fictional narrative with characters you can root for.
The first of many montages traces the rhythms of Congo tribal drums to slave ships sailing across the ocean to New Orleans ragtime. Later, Dieterle's montage will take on some of the expressionistic qualities of his home country, as trumpeter Johnny Schumacher (Jackie Cooper) literally wrestles with the notes he's playing.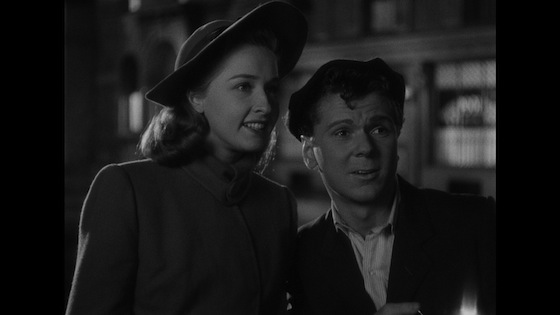 Bonita Granville plays Kit Latimer, a white jazz pianist who moves from New Orleans to Chicago and meets Johnny. Her family's longtime housekeeper has a son named Rex (Todd Duncan), also a talented trumpeter. The sounds of each city's unique jazz sounds collide when World War II forces Rex and his ragtime band from the backrooms of New Orleans to the mob-owned bars of Chicago. After the war, Johnny has trouble finding work and gives up the small-combo swing for a giant "jazz symphony" that performs in multi-balconied black-tie theaters.
Syncopation is just under 90 minutes and it has a large cast of supporting characters and covers a lot of ground. Cooper and Granville are fine, and their couple goes through the typical romantic ups and downs. The plot is pretty standard, if a little herky jerky, but what stands out above everything is the respect and passion all the characters have for the music. To his credit, Dieterle doesn't really play up the soap opera elements of the story either.
Before the film was made, Saturday Evening Post readers voted on the real-life musicians that should make up the All-American Dance Band featured in the last song of the film. Benny Goodman, Harry James, and Gene Krupa were among the all-white (of course) winners, so they appear in live performance at the end of the movie. The sound editing is choppy as hell, but Dieterle's on-the-beat film editing and a couple fun in-camera tricks keep things energetic.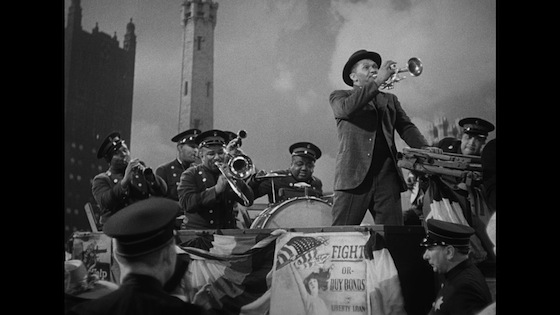 This excellent Blu-ray restoration features a 2015 re-release trailer and nine historic short musical films that predate Syncopation and showcases some true jazz legends.
A 19-minute early sound short film, 1929's Black and Tan Fantasy starring Duke Ellington and Fredi Washington, is Ellington's first screen appearance, and actually has the bandleader speaking lines. It's primitive compared to the lavish production and interpretive narrative content of Paramount's Symphony in Black from 1935, which is nine and a half minutes of pure cinematic and aural bliss, and features Billie Holiday.
Paramount's nine-minute Bundle of Blues from 1933 also stars the Duke, while the studio's 10-minute 1932 short Rhapsody in Black and Blue with Louis Armstrong, is a silly but great-sounding costumed performance with his band.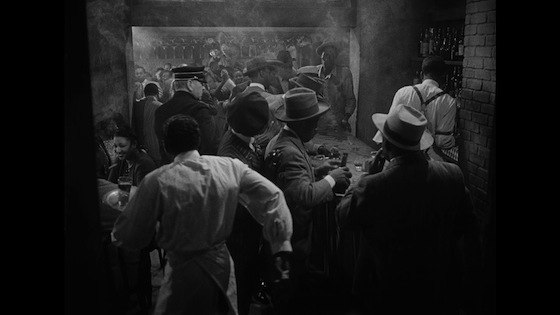 Bessie Smith acts and sings in the mournful 15-minute St. Louis Blues from 1929, which looks and sounds as fuzzy as the early Ellington film, but is overflowing with raw emotion. Cab Calloway's Hi De Ho from Paramount doesn't feature Minnie the Moocher, but this 10-minute 1933 short is snappy and fun and features the bandleader getting in and out of hot water with a woman in the most absurd way possible.
Hoagy Carmichael featuring Jack Teagarden and Artie Shaw's Class in Swing are 10-minute 1939 big-band performance pieces from Paramount. 1933's Jazz a la Cuba is a five-minute short that features Don Azpiazú and his Orchestra playing latin rhumba music while various long shots of Cuba are shown. For the last minute, some dancers come out. Eh.
Not all of the bonus Outside of these last three shorts (which still hold mild historic interest), the rest of the bonus musical films are pretty amazing, and Syncopation itself is its own odd marvel — a movie so focused on charting a meaningful musical course that it can't be bothered with the histrionics of its plot.