This review originally appeared in shorter form on KSNT-NBC, KTKA-ABC, and KTMJ-FOX, Kansas First News.
A couple of family dramas are new out on Blu-ray and DVD, one an under-seen debut from last year and the other an acclaimed classic from Japan.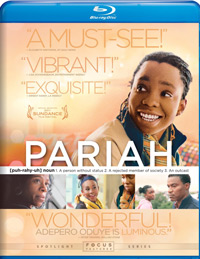 Pariah (2011)
A 17-year-old African American girl in Brooklyn struggles with her closeted homosexuality in the stirring coming-of-age drama Pariah, the feature debut of writer/director Dee Rees starring newcomer Adepero Oduye in the title role. Displaying an amazing amount of confidence and vulnerability at the same time, Oduye carries the film.
Under pressure from her school, her parents, and a group of gay friends who are out, she has to learn the hard way how hard it's going to be to be herself — especially as she's just learning who she is.
Pariah is told from the point of view of its atypical lead character and avoids many of the pitfalls of other issue-related dramas because of this. There is an authenticity to the world that's created here and the fact that her parents and other supporting characters have their own problems as well is a big part of that.
The only negative thing I have to say about Pariah is that Universal didn't include hardly any extra features about the movie on the disc, which is really a shame.
Late Spring (1949)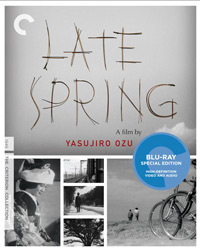 Late Spring, out in a beautiful new Blu-ray transfer from The Criterion Collection, is one of the most respected and moving Japanese films ever made. Directed by Yasujiro Ozu, Late Spring is a masterclass in family drama and subtle storytelling.
In postwar Japan, a widowed father (Ozu regular Chishu Ryu) comes to terms with the fact that his only daughter (Setsuko Hara, in her first of the three movies where she plays a single woman named Noriko, even though they are not technically the same woman) must soon get married. She doesn't necessarily want to get married, but tradition and a humble disposition keep both daughter and father from making their true feelings known.
In keeping with Japanese culture, Late Spring is restrained, but the feelings shared by its characters are absolutely universal. Ozu's low camera position helps the audience relate to his characters, and his almost-always static shots portray the sturdy demeanor of his characters.
Ozu became famous for his shomingeki films dealing with working-class lives, and his "Noriko trilogy" (Late Spring, Early Summer, Tokyo Story) are among his most affecting. Simply put, this is an expertly made family drama told in a classic style that is as moving now as it was 63 years ago, and will resonate for years to come.
Accompanying the movie are a full-length commentary and a 90-minute documentary on Ozu. If you've ever felt like branching out with international film, you couldn't do better than Late Spring.