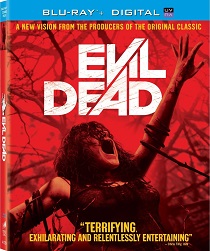 Now that its out on home video, it's time to invite over your friends and have a viewing party because as good as Evil Dead is, it's even better with a crowd of people.
Back in 1981, director Sam Raimi made a $90,000 horror film called The Evil Dead that sparked a cult phenomenon. It spawned two sequels with a campier tone, a legion of die-hard fans and followers, and it launched the career of B-movie king Bruce Campbell.
More than 30 years later, Raimi and Campbell revisited and re-invented the low-budget franchise as producers of Evil Dead –– out this week on Blu-ray and DVD (and coming to Universal Studios theme parks this Halloween as a haunted maze) — a wildly entertaining movie that pays tribute to the original while charting its own course forward.
The man who plead his case for the new Evil Dead is Uruguayan filmmaker Fede Alvarez. He convinced Raimi and Campbell that his take was the way to go, and boy, was he ever right. Rarely do you find a modern reboot that has the power to satisfy fans of a revered franchise while simultaneously grabbing audiences unfamiliar with the original and kicking them in the teeth.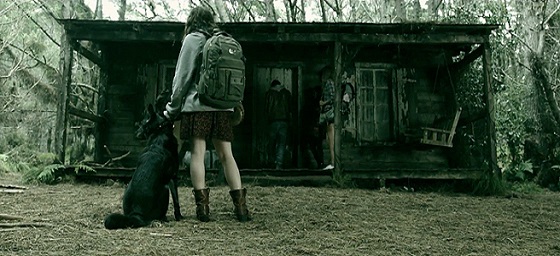 At this point in the horror genre, especially after last year's Cabin in the Woods poked fun at the very conventions Evil Dead are based on, you would think there's nowhere to go but down the same old, tired path. But Alvarez proves there's still a lot of room for thrills and unexpected fun in a movie that consists entirely of five young people holed up in a cabin.
The first notable difference is the premise. Mia (Jane Levy) is trying to kick a drug habit cold turkey, so when she says she wants to leave, her friends won't let her. It's a creative way to solve the problem that plagues so many horror movies: Why don't the kids just leave? The small but crucial amount of character development establishes the differing relationships so that when the each of them eventually becomes "possessed," these traits are carried forward.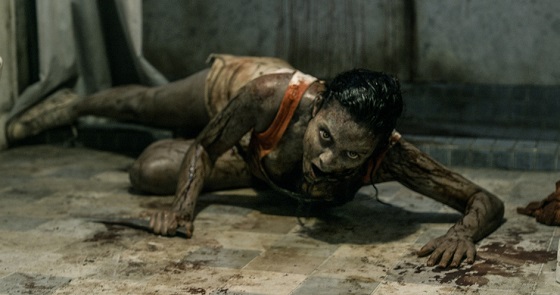 Evil Dead is relentless. Once it starts, it never lets up. It becomes a constant barrage of gory fun, and in the spirit of the original, Alvarez and his team use make-up and real-world special effects rather than relying solely on CGI. Another distinctive and key part of the original series were the off-kilter and exaggerated camera angles. Alvarez adopts the film language of Raimi's films, adds more to the bag of tricks, and keeps the sardonic attitude without necessarily being slapstick.
Since the movie was released in theaters this spring, I've seen multiple critics grousing about how this new Evil Dead has no sense of humor. I disagree wholeheartedly. This goes back to seeing it with a crowd (for which there is truly no substitute), but there's a very clear difference between the kind of gleefully over-the-top situational gore in this movie and the uber-serious gross-outs of other modern-day horror flicks with no imagination.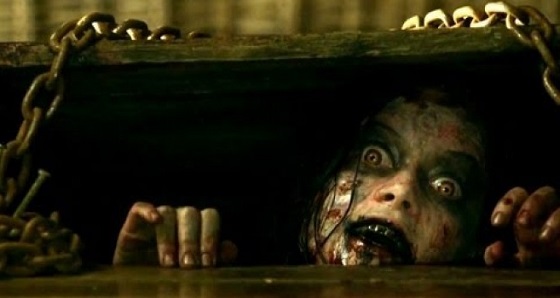 Besides, anyone going into a viewing of Evil Dead on Blu-ray is probably predisposed to gory flicks )or at least prepared for one), and can detach themselves from reality in just the right way required to enjoy the ride.
The Blu-ray/DVD includes an informative commentary track with Alvarez, Levy, co-stars Lou Taylor Pucci, Jessica Lucas, and co-writer Rodo Sayagues. Five featurettes ranging in length from five to 10 minutes cover different aspects of the reboot, and although it would have been nice to see Raimi present, Bruce Campbell does show up briefly in the one about honoring the Evil Dead legacy.