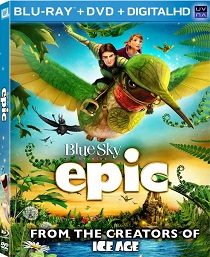 Four years later, we're still feeling the effects of Avatar on Hollywood. While no one's gone and outright copied the film for a knock-off, we've seen movies pick up on its wild embrace of motion capture performance and full-scale creations of digital worlds.
But the influence has never been so pronounced from James Cameron's epic than with Epic, out in a Blu-ray/DVD combo pack this week. The Blue Sky Studios production (those Ice Age guys) chronicles a day in which a teenager, MK (Amanda Seyfried), gets shrunken down to a world where magical tiny dudes are fighting for the fate of the world. Coincidentally, the fate of the world is being fought for in the backyard MK's father's country estate.
Truth be told, the computer animated Epic has more in common with a third film distributed by 20th Century Fox – Ferngully – which in turn probably had an influence on Avatar. There's so much influence to trace around from one picture to another that it becomes clear that whatever story is being told isn't necessarily unique. Epic might feel like a rerun, but if we're going to dismiss every movie that features people in a dynamic landscape saving a world, Hollywood might as well not exist for the next few years.
Unfortunately, there's much else that sets Epic apart from the pack either. It's a traditional sort of "If we don't stop this bad guy, we're doomed!" kind of feature, with a family-friendly tone applied.
The bad guy in this one is voiced by Christoph Waltz, as some sort of icky bump wearing a bat skin wielding a boom stick that kills shit. In the course of writing that sentence, it occurred to me that sounds like it came from a pretty kick-ass movie, but Waltz's character never feels like anything more than a protagonist to base the film against. He's killing shit why? No explanation is ever given, we just have to accept that he really enjoys doing it. He's normally kept at bay by Queen Beyoncé*, but after Christoph Waltz kills her, the world is threatened. Alas, the world is no longer run by this girl.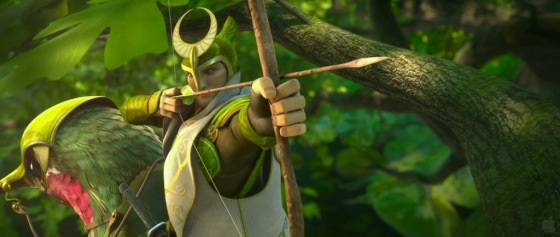 In their quest to fulfill some solstice prophecy, a ragtag group of unlikelies have to move a plant over to a tree. Thankfully that group includes Aziz Anzari playing a slug who is basically Aziz Anzari just more sluggish in appearance. Anzari's brand of whiny wannabe is the most effortless and funny aspect to the film, and even if all his character does is deliver one-liners for laughs, his impact is deeply felt on the film.
Credit is due to Blue Sky Studios, who have always sided on the lighter, funnier side of the family animated feature. It took some nerve to do something like Epic, which is much more cinematic and straight-faced than previous work like Rio and Robots. A lot of these moments, spent zinging around on bats and hummingbirds, are a definite thrill to watch.
But their efforts only get them halfway there. "Epic" is a ballsy name for a movie – if it doesn't go all the way and feel like a monumental story, it's not doing service to its title. But even with a less grandiose name, Epic would be a movie that hits all of the story points without the passion showing through.
The Blu-ray/DVD combo pack also features a digital copy of the film, and extra features include a 25-minute making-of doc and four featurettes about the real-life concepts, animals, and insects that inspired the movie. They are short and may get the wheels turning for small kids interested in exploring other aspects of the story.
* Though Beyoncé does voice the queen character, her character is not actually called Beyoncé. But that's not going to stop me from calling her Queen Beyoncé.