Two 2012 films that should have gotten more attention in their theatrical releases are out now on Blu-ray.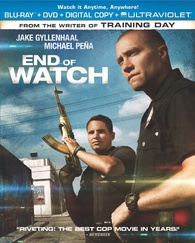 End of Watch (2012)
Jake Gyllenhaal and Michael Peña play two beat cops in South Central Los Angeles in this affecting crime drama from writer/director David Ayer, out now on a Blu-ray combo that also includes a DVD and digital download.
The movie mostly follows the found-footage style of shooting, with Gyllenhaal's character filming everything for a film project.
His fellow police officers aren't real happy about it, but gradually this mildly annoying filmic device becomes less important as the strong bond between Peña and Gyllenhaal takes center stage.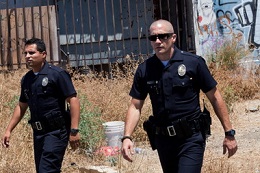 Although the action of End of Watch comes from the increasingly dangerous everyday situations that these ordinary cops find themselves in, it's the scenes between the two partners — who are also best buddies — that keep the movie engaging, and sometimes very funny.
It may not be the most natural conceit to think that Gyllenhaal would continue to tape the personal moments with his new girlfriend (played by Anna Kendrick) and outings with Peña and his wife (Natalie Martinez), but the warmth in these moments invest us even further in these everyman cops.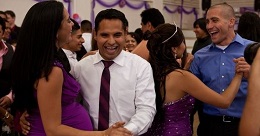 End of Watch develops a pattern as the calls they get sent out on get more and more outlandish and gruesome, and as some low-level local gangstas come into the mix sporting their own videocameras, the contrivances threaten to derail the film, but End of Watch keeps afloat because of the natural chemistry between Gyllenhaal and Peña. With nary a corrupt cop in sight, it's focused film that's
a moving tribute to working beat cops everywhere.
The audio commentary from David Ayer is engaging and informative, talking about all aspects of the storytelling. There's also 47 minutes worth of deleted scenes included, which round out a more complete view of the already well-developed characters.
The five featurettes promised on the Blu-ray cover are a big disappointment, since they recycle the same interviews and are basically two-minute promo snippets.
To Rome With Love (2012)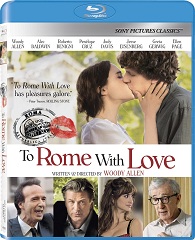 The lone extra feature on the Blu-ray of Woody Allen's latest movie To Rome With Love is a nine-minute featurette with interviews from some of the cast, as well as Allen's producer and sister Letty Aronson. It has the usual amount of actors in talking-head interviews going on about Allen's hands-off directing style and how great it is to film in Italy's historic capital city.
But the key to understanding the charming diversion To Rome With Love is knowing Woody Allen's love of the films of Frederico Fellini, which is also mentioned in the brief making-of mini-doc that accompanies the movie. (Allen is famous for not including any extras on home video releases.)
To Rome With Love may not contain the storytelling focus and efficiency of his last travelogue-titled film Midnight in Paris, but just like that Oscar-nominated hit (his biggest yet), it has plenty of magic. Four stories revolving both visitors (Alison Pill, Ellen Page, Alec Baldwin, Jesse Eisenberg) and locals (Roberto Benigni, Penélope Cruz, Fabio Armiliato) are interwoven with various states of reality and unreality. Allen himself is back in the acting seat, playing a record company executive that develops a stubborn notion about a new discovery.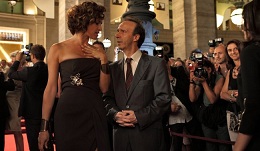 In fitting with its setting, the themes of the stories revolve around romance and longing, but Allen also blends a little bit of modern cultural commentary in as well, without coming across as out of touch. The Roberto Benigni story involves an Italian everyman office worker who becomes famous overnight for no apparent reason at all, and is a clever satire on American "celebrities" like the Kardashians.
The absurdity of his situation dovetails nicely with other moments of magical realism, plenty of insight into affairs of the heart, and a strong cast to make To Rome With Love a very enchanting movie.