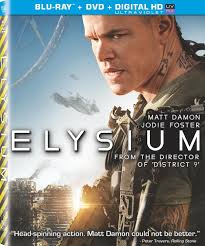 Elysium (2013)
There's a certain point about halfway through writer/director Neill Blomkamp's newest sci-fi social commentary/action flick Elysium where I realized the film had jumped ship and entered the zone of pure camp. It was a combination of two things: When I gave up trying to figure out where Jodie Foster's over-the-top upper-crust snob accent was from and began to enjoy it as truly out there,  and when Sharlto Copley's grizzled and determined bounty hunter Kruger refused to let something piddly like decapitation get in the way of his pursuit of orphan-turned-freedom-fighter Matt Damon.
Elysium plays almost like a parody of the social justice movie it wants to be, even if it starts out totally straight-faced. In 2154, the poor huddled masses of Earth have reduced the planet to one big slum and the richest f the rich live in an orbiting space station above. Damon starts off protecting his own skin, but gradually the mission that will take him up in space becomes more noble than that.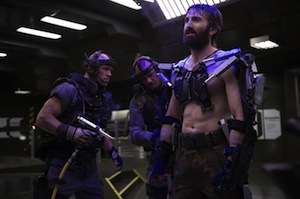 Who says that a movie has to be enjoyed the way its maker intended? Damon's sad-sack backstory and burgeoning almost-romance may get heavy-handed, but the detailed production design has its own story to tell, and when the well-choreographed action ramps up to a ridiculous degree, it borders on exploitation-level violence. Blomkamp isn't as skilled in mixing tones and genres as Quentin Tarantino is, so Elysium is a mess, but it's a thoroughly enjoyable one.
The Blu-ray/DVD/Digital Copy combo features a slideshow so you can view the excellent conceptual art, and some pretty decent extras — including one extended scene, a 45-minute making-of doc, and four featurettes.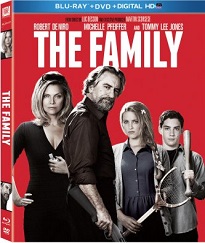 The Family (2013)
With La Femme Nikita, The Professional, and The Fifth Element in the 90s, French director Luc Besson forged a slick, distinctive style punctuated with a dynamic visual flair. But in the 00s, he began to use his powers in the service of subpar Eurotrash action scripts and animated children's adventures that he produced through his own company. The mob comedy The Family, released today in a Blu-ray/DVD/Digital Copy combo pack, sees him returning to the director's chair with a mainstream adult American film for the first time since 1999.
It's a self-reflexive comedy that has Robert De Niro playing a gangster who actually sits down with a French audience in one scene to watch one of his favorite movies — Goodfellas. Unfortunately, it doesn't have the cleverness to back up a bold choice like this. Essentially a fish-out-of-water story with De Niro and Michelle Pfeiffer playing parents of a mafia family with two kids who are hiding out in a small town in Normandy under the Witness Protection program, The Family is pretty rote stuff.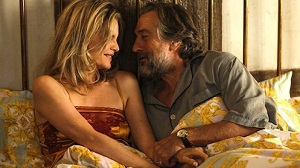 There's a ton of tired, unfunny schtick where each member intimidates their unwitting French neighbors and schoolmates with violence and threats (the cover features each of them holding a weapon), even for the smallest of infractions. A half-baked romantic subplot with daughter Dianna Agron is just one of the many things that the script forces its characters to do without any real justification other than a need for conflict. Besides the stunt casting of De Niro as another gangster (and Pfeiffer,so good in Married to the Mob, doing a duller version of that character), Tommy Lee Jones also makes an appearance as a verbose FBI agent. Yawn.
The extra features are bland as well, with a featurette called Making The Family and another one that recycles a lame joke from the movie, The Many Meanings of FU*%!