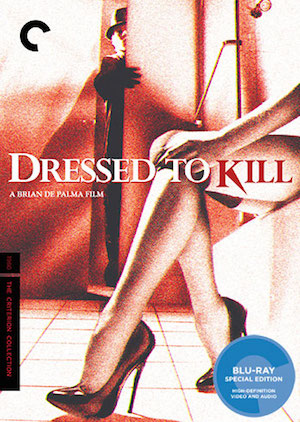 [Rock Fist Way Up]
"I feel like this is a lost art. People don't think like this anymore and it's becoming more of a problem because the screens are getting small. The close up and the two-shot are going to rule. We're not going to see too many David Lean shots on an iPhone 6."
That's director Brian De Palma talking about his strategy of extreme widescreen composition filled with detail, as well as rest of the cinematic bravura on display in his controversial 1980 thriller Dressed to Kill, recently released in a restored uncut version for The Criterion Collection on Blu-ray.
The quote comes from one of many interviews included on this excellent new Criterion disc. Since De Palma is talking to filmmaker Noah Baumbach, it can be assumed that this is either a scene from or an outtake of De Palma, a new documentary by Baumbach and Jake Paltrow, which just premiered at the Venice Film Festival.
There's so many different angles to take when reviewing Dressed to Kill. It's a lurid film featuring throat-slashing, overheated lust, and a too-simple reduction of transgender and cross-dressing issues for pulpy purposes. At the same time, however, it uses grand cinematic gestures to relay the dread and guilt of its characters to great effect. Put simply, Dressed to Kill is a refreshing joy to watch in this age of ultra-fast editing and homogenized camera angles.
Upon its release, co-star Keith Gordon says in another extra on the Blu-ray, that Dressed to Kill was accused of being "trashy, sexist, and violent." All true. But as Nigel Tufnel put it in This is Spinal Tap: "What's wrong with being sexy?"
Angie Dickinson didn't think there was anything wrong with it. She famously had a body double for her opening shower scene (a Penthouse Pet also interviewed in the supplements), which is absurdly overheated due in part to Pino Donaggio's string-heavy melodramatic score, which turns sinister in a recurring theme.
Then, she embarks on one of the best almost-silent, carefully choreographed sequences in modern movies: A 9-minute stroll through Philadelphia Museum of Art (standing in for New York) full of suggestive looks, red herrings, and darkly comic foreshadowing. De Palma gives poor Dickinson a sick punchline of a come-uppance and piles on the bad news for her, right up to the shocking end. So there's that common Hitchcock accusation.
In the 2015 interview, De Palma says "I've always thought that I've taken the ideas of Hitchcock and tried develop them further." In 2001 for an older featurette on the movie, he says:"I was always very open about my use of Hitchcock's language when I made movies – and the story ideas, they're the best that exist. If you're working in this genre, Hitchcock's done it all. So if you're going to be good, you're going to use some of his ideas because he's done them all."
I agree with De Palma, and always thought he's taken Hitch's formal strategies to new heights. (I look forward to the day when people will be able to re-appraise and appreciate his soaring 2006 film The Black Dahlia, which should happen soon after the doc sees a full release, I imagine.) The screenplay is by turns campy and dead serious, but De Palma's bold camera moves (courtesy DP Ralf Bode, who also gets an appreciation on this disc) lend everything a heightened sense of both pulp and awe.
The bottom line is this: If you enjoy cinema and you haven't seen Dressed to Kill, you owe it to yourself to check it out, if nothing else to see a different side of Michael Caine. In my mind, it's a wonderful time capsule that just keeps getting better with age.
Dressed to Kill was forced to cut shots in America to get an R rating (which really seems ridiculous now), but the unrated cut was originally released in Europe. The unrated cut (De Palma's preferred version) is restored here on Blu-ray, along with these extras:
New conversation between De Palma and filmmaker Noah Baumbach
New interviews with actor Nancy Allen, producer George Litto, composer Pino Donaggio, shower-scene body double Victoria Lynn Johnson, and poster photographic art director Stephen Sayadian
The Making of "Dressed to Kill," a 2001 documentary
New profile of cinematographer Ralf Bode, featuring filmmaker Michael Apted
Interview with actor-director Keith Gordon from 2001
Pieces from 2001 about the different versions of the film and the cuts made to avoid an X rating
Gallery of storyboards by De Palma