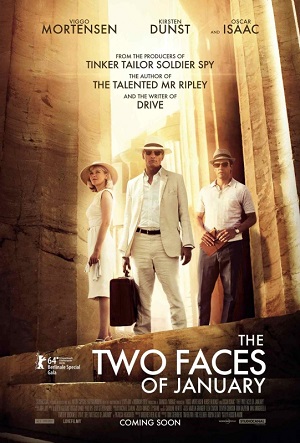 [Minor Rock Fist Up]
The story of Theseus tells about a worried king awaiting his son's triumphant return home, looking for a white sail on his son's ship for victory, or black for death. The forgetful son is so ecstatic in his return, he forgets to run the white sail, and his father flings himself off a cliff in a moment of heartbreak. In the opening scene of the film, Rydal, the protagonist, recounts this tale to his tour group in Athens. This ancient tale is in keeping with the theme of Hossein Amini's (screenwriter: Drive, 47 Ronin) directorial debut, The Two Faces of January (Out now on DVD and Blu-Ray), a noir-ish story of a con man and how sometimes the people we love and respect can sometimes let us down.
Rydal (Oscar Isaac) is an American living in Greece who has just learned of his father's death at home. Through his job as a tour guide, he meets Chester MacFarland (Viggo Mortenson) and his wife Colette (Kirsten Dunst), who appear to be merely a wealthy American couple on vacation, however Chester is not what he seems. A con man on the run, Chester owes some wealthy men in the states a lot of money that he scammed them out of. After killing a private detective on his tail, he enlists the help of Rydal to hide the detective's body and make an escape out of the country.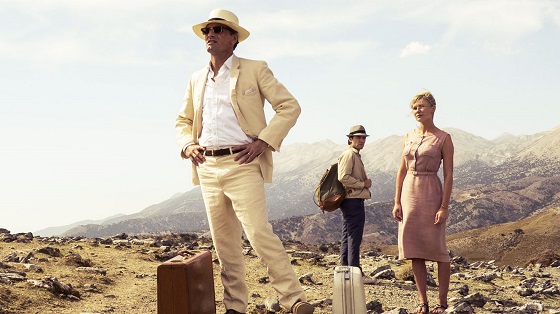 The writing here is nothing special, but is far from incompetent. Director/screenwriter Amini takes us through familiar territory with a few intriguing and well-done twists and turns. Nothing is without its flaws, and this film is no different. Amini ham-handedly handles the implied romance between Rydal and Colette by never giving us a chance to experience any feelings between them, instead opting imply that they had been intimate through Chester's dialog, and o the viewer, it appears Rydal clearly has feelings for her, but we're never really shown if anything comes of it beyond friendship and the obvious jealousy of her husband.
Additionally, I wondered the relevance behind finding out Rydal's father back in New Jersey has passed away. If the point is for him to make peace with the passing of his demanding father with whom Rydal clearly has some unresolved issues, then the film fails to show us that he's accepted his father for who he was or has made peace with his passing somehow. However, if the objective is for Rydal to view Mortenson's character as a sort of surrogate father-figure, the film doubly fails in that aspect, because it shows Rydal being disappointed all over again by another man in his life, albeit in a very different manner.
Strong performances from the trio of main actors are what really carry this film. Though ancillary characters pop up throughout the film, it's never for long, and the entire weight of the plot rests squarely on the relationship between MacFarland, Rydal, and to a lesser extent, Colette.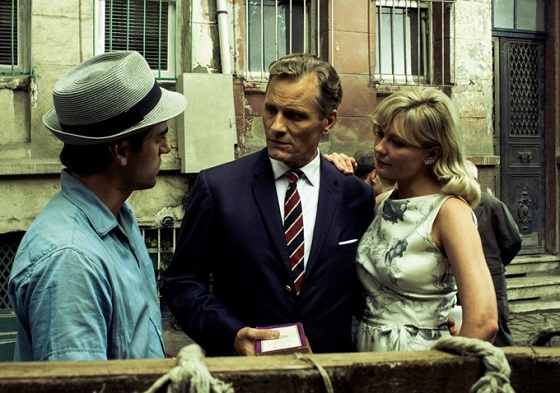 Speaking of Colette, there were a handful of times in the film where I wondered what her true function in the film was meant to be. It stands to cursory reason that MacFarland would bring his wife along with him, however her only real function serves to create tension between the two men in numerous ways, and she goes from being the charming and loyal wife of a wealthy man to another person appalled at the lengths MacFarland will go to in order to escape his own problems, and finally ends up as the driving force behind the decisions Rydal makes in the end of the film.
Set in the early sixties, The Two Faces of January benefits from the time period in a number of ways. Technology is limited in a way that a present-day setting isn't, where tracking a fugitive would be easier with twenty-four-hour news and tools like the internet to spread photographs of wanted criminals around easily, especially in airports where security is tighter than ever. It's a good sign that this film, adapted from a 1964 novel by Patricia Highsmith, kept close to its source material.
The Two Faces of January brings three solid performances together to help a decent script turn into an hour and a half of quite entertaining film. If your cup of tea is in a tightly-woven crime caper and you enjoy looking at the gorgeous Greek countryside, The Two Faces of January is for you, however, if you're looking for a main character with unresolved daddy issues, maybe I'd suggest you watch something else.