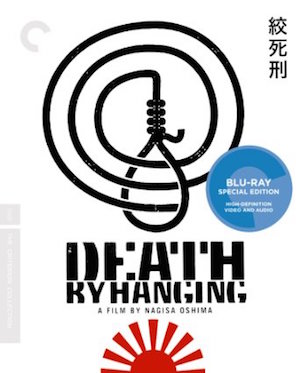 [Solid Rock Fist Up]
This movie took me by complete surprise.
Here's what I wrote about Death by Hanging (Kôshikei) in my weekly Screen Stealers column at The Pitch:
"Every now and then I see a movie that's so perceptive; so clear-eyed in its criticism of modern culture, that it floors me. Death by Hanging is one such movie, made all the more remarkable by the fact that it was released in 1968. New on Blu-ray from Criterion today, this absurdist satire from Nagisa Oshima shows a man executed by the government whose body refuses to die. Challenging from a formal standpoint, this black comedy also compels us to examine class, race and morality in a way that still shocks in 2016."
So yeah, that's the short version. The great thing about getting a Blu-ray from The Criterion Collection (besides the fact that the restoration is always top-notch and saves aging films from extinction) is that there's always really entertaining and informative extra features to delve into.
On the Death by Hanging Blu-ray, screenwriter/critic programmer Tony Rayns hosts a fascinating 30-minute featurette that puts the film and Japanese auteur Nagisa Oshima into historical perspective. After a personal trip to Korea in the 1960s, Oshima became appalled at how Koreans were viewed and treated in his home country of Japan. This, along with the real-life story of Chin-u Ri, a Japanese-born Korean man who was executed for the 1958 rape and murder of a young Japanese girl, became the genesis for this radical movie.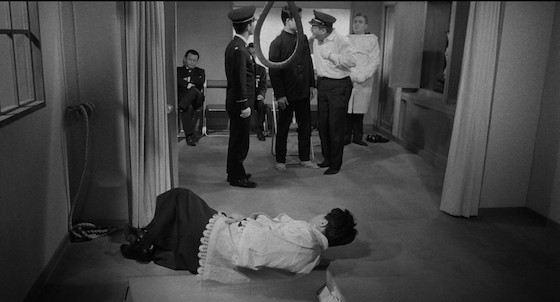 Oshima starts Death by Hanging off as an almost documentary-like procedural, narrating (the director himself) the process one goes through if they are to be executed by the state. It brings up some of the more standard-issue noirs of the 1940s, where the film masquerades itself as some type of crime-and-punishment morality tale. What happens next is a 100 percent break with that format.
The condemned man R (played with implacable blankness by Yung-do Yun) doesn't die. Suddenly, the movie switches into devious black comedy mode as the warden, the chaplain, and the other prison workers race around trying to understand the protocol for this mishap. As they bumble around the situation, Oshima's script (with Tsutomu Tamura, Mamoru Sasaki, and Michinori Fukao) becomes slapstick satire, lampooning not just the inane rules that allow the state to execute somebody, but ethnic stereotypes and organized religion in general.
The level of absurdity is taken to Monty Python proportions with characters who start wearing costumes, affecting voices, and acting out the crime in front of the man who did them, trying to jog his memory about who he is. (You see, they can't execute him until he remembers who he is and what he did.) When the authority figures start revealing some of their own selfish and stupid character traits and viewpoints—most of them completely antithetical to their positions of power—Death by Hanging goes to another level.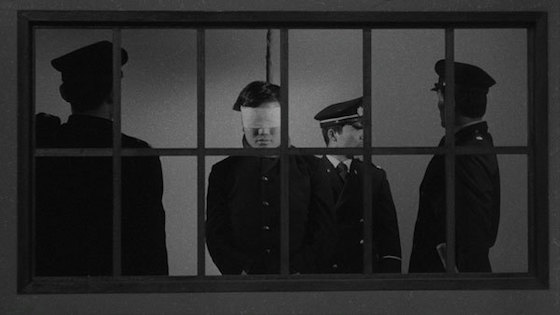 Finally, the line between their storytelling and reality is blurred even further by the entrance of a girl who says she's R's sister. The catch? She was part of some kind of dream sequence, and has now entered the real-world story. Wha?
About an hour into the complete de-evolution of the situation, Death by Hanging can get a bit frustrating. It hits the same note a little too often, but as long as you know that another subversion is just around the corner, you'll be as thrilled by the movie as I am. This is a wonderful discovery!
Also included on this fine Criterion offering (which features a crisp 4K restoration) and is the 1965 experimental documentary short Diary of Yunbogi, which Oshima made following his trip to Korea, so its certainly related in theme, even if the style is much different.