This Blu-ray / DVD review of 'Dazed and Confused' and 'Attack the Block' originally appeared in shorter form on KSNT-NBC, KTKA-ABC, and KTMJ-FOX, Kansas First News.
Dazed and Confused (1993)
Back in 1993, at the height of the grunge explosion, writer/director Richard Linklater made Dazed and Confused, a movie that celebrated and embraced the aimlessness of high-school life—in 1976.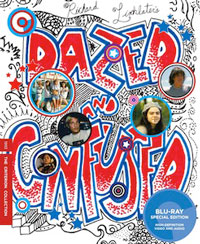 It may have seemed like a movie that was out of time, but it turned out to be perfectly in sync with the restlessness of the early 90s as well.
Dazed and Confused was also a love letter the big dumb rock of the 70s, and Linklater conducted his easy-livin' symphony with the subtle skill of a man who'd been there. (You may or may not notice that none of the music in the film predates its setting — nice touch.) This wasn't American Graffiti. As Randall "Pink" Floyd says bluntly, "If these are the best years of my life, remind me to kill myself."
It's easy to be nostalgic while watching the new Criterion Dazed and Confused Blu-ray if you lived through the 70s, but the movie doesn't pander by having a bunch of cheap sex and drug use in the forefront. This behavior is treated as any other, just part and parcel of another day in the life of a teenager, rather than some easy joke a la That 70s Show (a TV program absolutely inspired by Dazed and Confused's later home-video success).
It flopped at the box office but Dazed and Confused eventually went on to become a huge cult hit, in no small part thanks to young nobodies at the time like Matthew McConaughey, Ben Affleck, and Parker Posey. 23 minutes of audition tapes and some funny reflections from Linklater further make casting director Don Phillips (who came out of retirement to do this, his last film before Dazed and Confused was eleven years prior: Fast Times at Ridgemont High) seem like soothsayer.
The new Dazed and Confused Blu-ray from Criterion is a loving tribute to a movie that is now beloved and quoted by all generations who can relate. There's a commentary track full of great stories, 26 minutes of deleted scenes, a 50-minute documentary, a cool Frank Kozik poster, and more.
Attack the Block (2011)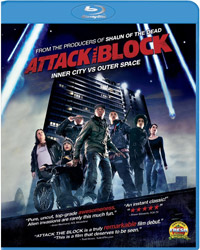 Another coming-of-age soon-to-be cult classic out this week on DVD and Blu-ray is Attack the Block. You haven't heard of any of the teenagers in this movie either, but don't be surprised if you do soon.
There's so much more to Attack the Block, but essentially, this is the plot: A gang of young street thugs defend their run-down London housing complex from an alien attack. Sound silly? It is, but it isn't.
Director Joe Cornish, who co-wrote the upcoming The Adventures of TinTin with pal  Edgar Wright, has very adept at managing the constantly changing tones of Attack the Block.
This one-of-a-kind action movie has all the thrills and tension of a good suspense flick, a clever horror/sci-fi angle, and a little of Stand By Me thrown in for good measure—even if the stakes are way more 'life and death.'
In fact, by going all-in, so to speak, as an action movie and accepting the fact that there will be a body count, Cornish raises the stakes and the emotional investment of the characters. It makes Attack the Block more effective in all of the different genres its trying to pull off at the same time.