Les Cousins (1959), new out on Criterion Collection Blu-ray and DVD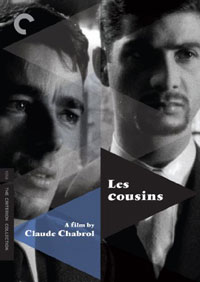 French New Wave director Claude Chabrol cast the same two actors in the bleak 1959 character study Les Cousins that he used in his film debut Le Beau Serge in 1958. Each tale is a fish-out-of-water story where one person becomes accustomed to the ways of his new surroundings, only the first is set in a small French village.
Cleverly, Claude Chabrol reversed his actors' roles for Les Cousins, so that Gérard Blain plays the provincial boy who comes to live with his cousin (Jean-Claude Brialy) in the big city of Paris, where both of them are studying law.
Little studying gets done. In fact, the pair are never seen in class. Rather, Claude Chabrol is making a dark and cynical statement with Les Cousins about declining moral values in a modern society. The clip below doesn't have any subtitles, but it doesn't need any for you to get an idea of the kind of shallow, party boy that Jean-Claude Brialy's Paul is.
That's him opening the door; hosting the party that will come to define the kind of people that Paul's friends are. This scene is exemplary of the entire film — it bristles with energy. Chabrol keeps his camera moving around Paul's apartment, juggling characters expertly, each of them at a different step in the ladder of their social circle.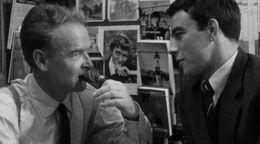 Gérard Blain's Charles is taken with this attractive, fast-living young people, but he feels a little of out of his depth. Although we are meant to sympathize with Charles, Claude Chabrol isn't exactly going out of his way to present Charles as entirely sympathetic. He is fixated to an annoying degree on his pleasing his mother at home, and the way he writes to her betrays his "simple" values as being stunted. He doesn't wear his heart on his sleeve, it's like a red neon sign draped around his neck. His earnestness is at an astonishingly grade-school level.
On the flip side, Paul is so callous that he thinks he is helping his cousin when he steals a crush (Juliette Mayniel) from him, and probably doesn't realize he's actually being jealous and petty. In fact, the final scene in the film barely registers on Jean-Claude Brialy's face. He's as dead inside as can be.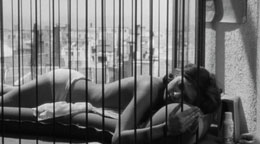 Les Cousins seems to hold contempt for almost every person it characterizes. Even Florence (Juliette Mayniel) — who shows actual affection for Charles and sees him as a possible way out of the vicious, vacuous circle of friends — makes horrible choices. If the men in Les Cousins are controlling and boorish, then the women in the movie are weak and promiscuous.
Although the characterizations are right on, some of the movie relies too much on melodrama and easy plot devices.
Criterion's new digital restoration of the Claude Chabrol film Les Cousins looks great and the Blu-ray and DVD contain an informative commentary by scholar Adrian Martin.
For anyone curious about exploring the origins of the French New Wave, Les Cousins is a dark, pessimistic, and intelligently mounted film. Although is doesn't contain the more obvious stylistic departures of François Truffaut or Jean-Luc Godard, it's attitude is decidedly of that era.