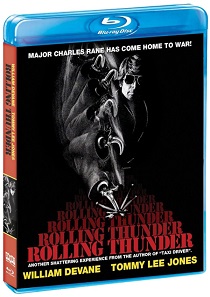 In 1995, high off the success of Pulp Fiction, Quentin Tarantino started a film distro company called Rolling Thunder Pictures that was aimed at bringing cult movies to a wider audience. Rolling Thunder Pictures was named after a film that influenced Tarantino profoundly and remains one of his favorite movies of all time.
Having been available only on VHS and a bare-bones MGM "limited release" on-demand DVD since 2011, the Shout! Factory Blu-ray re-issue of Rolling Thunder is something to celebrate.
Before The Deer Hunter, Coming Home, and First Blood, there was 1977's Rolling Thunder. The Vietnam War was still very fresh in people's minds and the country was still coming to grips with the long-term effects that this unpopular war was having on not only the American psyche in general, but specifically the veterans who were coming home.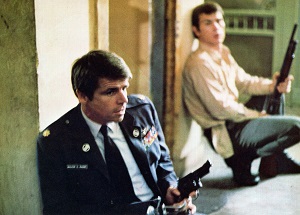 In Rolling Thunder, the first thing you notice about former Vietnam POWs Charles Rane (William Devane) and Johnny Vohden (Tommy Lee Jones) is the silence. There's a big celebration upon their return (and Rane even has a groupie of sorts), but their complete alienation from "normal" American society manifests itself as a fake stoicism. Behind Devane and Jones' eyes lie a rage that can only be imagined, except for the moments when we flashback to scenes of black-and-white torture in the POW camp. Later in the film, Rane reveals to the man who's been sleeping with his wife exactly how he endured the constant pain and humiliation. "You learn to love it," he says, asking the horrified homewrecker to hit him harder.
Yep, this movie gets weirder and weirder. And it underplays that weirdness, which is part of the reason it works so well.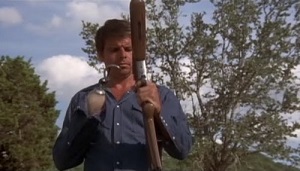 John Flynn directs Rolling Thunder with an understated naturalism that serves the simplicity of the plot well. Without the unique mood that Flynn creates — an odd mix of the horrific and contemplative — the movie would seem like just another revenge picture. Flynn isn't afraid to let Devane (and by the end, Jones) do the heavy lifting as his character goes further down a spiral of misery. Even as he begins to create a real relationship with the POW groupie who has romanticized his situation to the point of obsession (Linda Haynes), he can't really commit to it and keeps her at arm's length.
That connection to an emotional truth is key to Rolling Thunder's success, because as the plot starts moving and the elements of the violent revenge flick start rearing their head (and the exploitation angle — see Devane's hook-for-a-hand), the movie feels grounded in Rane's reality. By the end of the movie when the cycle has run its course, its clear that there's only one kind of joy that these two wounded warriors can truly experience. Since Rolling Thunder was at least partially penned by Taxi Driver's Paul Schrader, you can probably guess what that might be.
Accompanying this new Shout! Factory Blu-ray presentation –which is appropriately grainy for a low-budget 70s flick but not muddy at all — is a 20-minute making-of documentary with new interviews from Devane, Jones, Schrader, and co-writer Heywood Gould, who added quite a bit of character to Schrader's original script.