The Island (1980) and Death Valley (1982) — both out this week in Blu-ray/DVD combos from Scream Factory — share a few things in common.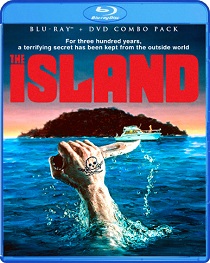 They hail from the early 1980s, involve an awful lots of slit throats, and feature histrionic young boys who are upset at their parents.
Neither of these movies could accurately be described as "film." The villains in each piece are two-dimensional caricatures with motives never quite fully explained, and the main characters are defined by some vague trait — annoying kid, stoic writer — that has to be accepted by the viewer as enough.
Strangely enough, for movies that can be easily summed up in one sentence, there's a certain element of successful tension build-up in both movies. In The Island, the plot involves a father (Michael Caine) who must escape with his brainwashed son after they're captured by an ancient pirate cult led by David Warner (perhaps better known as Jack the Ripper in Time After Time). Death Valley is the old standby where the kid (A Christmas Story's Peter Billingsley) finds evidence of murder and must run from the killer.
Despite coming from Scream Factory and featuring a healthy amount of gore, as well as tension that ratchets up considerably as each film progresses, neither movie can properly be called a horror film. Death Valley is probably best described as "a moody thriller," while The Island is a full-on action adventure piece, directed by Michael Ritchie. Ritchie is probably known for directing comedies, like the 1976 The Bad News Bears and Fletch, but in 1981, he also did the slasher parody pic Student Bodies.
They're both fun movies, with each starting out with some rather explicit violence. Watching a portly gentleman get disemboweled with an ax at the outset of The Island startled the hell out of me — the fact that it's shot head-on, and well-lit only serves to make it more stomach-churning. When people are killed in this movie, it happens quickly, and it happens violently.
Most of the violence in Death Valley comes with knives: stabbings and slit throats are the means of dispatch here, and the blood looks more like spilled tempera paint than actual exsanguination.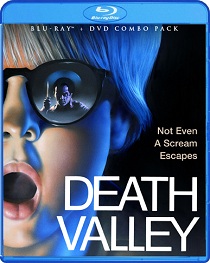 Compared to the hard-edged violence of The Island, Death Valley seems almost cartoonish, especially with its youthful protagonist. However, the killer Hal (Stephen McHattie), calmly and coolly stalking young Billy, does a nice take off on Robert Mitchum's character from The Night of the Hunter, allowing for a certain sense of dread that offsets the cheaply-performed killings. Also: Wilford Brimley!
For all of the rather flimsy plot and character development, both The Island and Death Valley make wonderful use of their settings. The transfer for both pictures make the colors and contrast pop something crazy. When you see Hal's car in Death Valley creep out of the darkness into the light of a streetlamp, the contrast is astounding.
A similar thing can be said for the pirates' raid on a sailing ship in The Island. It's a raucous, although nerve-wracking attack of the ratty, nasty buccaneers on a group of beautiful young folks, and it shows the full force of this band of killer miscreants, heretofore only seen in dark of night.
The sound in both is equally good, although The Island suffers from muddy voices. I was forced to kick on the subtitles in order to properly follow any scene which had the characters speaking quietly to one another. The extras are pretty minimal, limited to trailers, rather than the cavalcade of material on the collector's editions put out by Scream Factory (the genre cult film arm of Shout! Factory).
However, affordable, good-looking, nice-sounding Blu-ray/DVDs are great, especially for rare films which have thus far been relegated to VHS bootlegs.