Cameron Crowe's new documentary Pearl Jam Twenty, which spans the life of one of modern rock's most enduring and influential bands, is precisely the kind of by-the-books rock doc that you might get if you were watching a two-part episode of VH1's Behind the Music.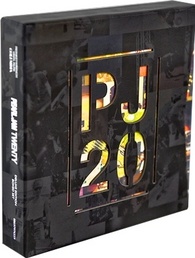 Sure, having been friends with the band for so long, Crowe had a lot deeper footage to cull from than VH1 would have and his personal interviews with the band aren't in some cheesy studio with a boring backdrop, but in Pearl Jam Twenty, the filmmaker never really makes their story come alive (no pun intended).
The structure of the movie, out on DVD and Blu-ray today, gives away one of the biggest problems with Pearl Jam Twenty. After a certain point, the story on paper just isn't that interesting. The movie spends a good amount of time on the unexpected death of the band members' early leader (from Mother Love Bone), Andrew Wood, and a long portion dealing with Pearl Jam's meteoric rise to the top in the early 90s, but after that, Crowe is forced to look backwards and start profiling the early days of the band members.
This is because, outside of a Ticketmaster controversy and tragic death of eight fans at the Roskilde Music Festival in 2000, Pearl Jam's outward story is one of a slow and steady ability to maintain a certain level of success and stay true to themselves. Not exactly great movie material.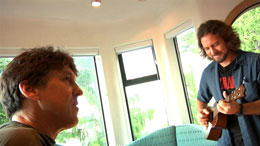 What stinks is that Crowe is willing to tell that "outward" story — a highlight reel of the band's pop culture greatest hits. (Not a good idea for a band that hasn't had one in ages, by the way.)
Despite the fact that he has a personal relationship with Pearl Jam, Crowe never gets inside what makes them tick artistically. What he does do, perhaps in an attempt to sidestep that, is make some very shaky and unwarranted comparisons by showing clips of Bob Dylan and The Who, among others.
Lead singer Eddie Vedder's backstory with a father he never knew is fascinating and all of about five minutes is spent on that. Guitarist Mike McCready has battled substance abuse and alcohol addiction and was diagnosed with Crohn's disease when he was 21. Even less time is spent on that. Pearl Jam also went through five drummers in eight years, eventually sticking with old friend Matt Cameron. This turns into an anecdote, set to old-timey Vaudeville music and summed up in less than a minute.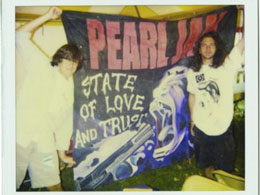 The Metallica documentary Some Kind of Monster is a frustrating watch for sure, but it's 10 times the movie Pearl Jam Twenty is because it spends most of its running time showing truth rather than talking about it the entire way through. There's a difference.
Directors Bruce Sinofsky and Joe Berlinger were granted unparalleled access to Metallica while they were making a record under the influence of a "life coach" and a very opinionated producer, and at a time when they were going through personnel changes and were completely bereft of musical inspiration. It may not be the story Metallica wanted to tell or even the story that the fake happy ending might have you believe, but it is nonetheless a fascinating account of a band unraveling before your eyes, more unsure of themselves than ever.
I am happy that Pearl Jam has been true to themselves over the years and I admire them for not making music videos, concentrating on the music, and not letting outside agents, marketers, label people, etc. influence or taint the band. But I knew that already, and that being your thesis for a two-hour movie, well … it simply isn't enough.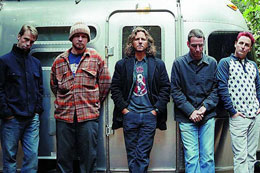 As a career recap, Pearl Jam Twenty contains some nice clips that Pearl Jam fans will appreciate. Crowe does a good job of placing the band in the context of the "grunge" explosion in the early 90s and their effect on mainstream culture. Vedder being a reluctant cover boy on Time magazine and the band's rocky relationship with Nirvana give us a little insight into the unusual expectations of living life in the rock n' roll mainstream, but when the greatest conflict in your movie is that of sudden fame, you've got some pretty thin stuff there.
Clips of Adam Sandler poking fun at Vedder's warbly singing style on Saturday Night Live and a Scott Stapp-Eddie Vedder faceoff on MTV's claymation Celebrity Deathmatch show are great ways to introduce the topic of the band's influence on rock, but this isn't explored with any depth either.
Since Pearl Jam's debut album was released in 1991, countless number of rock acts have copied the early PJ formula of radio-friendly, groove-oriented rock riffs with chesty, baritone vocals that growl and drip with "emotion." Yes, Vedder is authentic when he gets all intense and stuff, but there's something inherently showy about it that undercuts the band's supposed earnesty.
What's worse, a whole subgenre of generic, piss-poor 'big dumb rock' (or butt-rock) bands like Stone Temple Pilots, Fuel, Creed, Bush, and … God help us … Nickelback —  have had their way with the airwaves since then and its poisoned the well. Since Crowe's overriding theme is that Pearl Jam are survivors, why not trace the paths of their stagier and more calculated copycats?
The worst thing about Pearl Jam Twenty is that is seems like a huge missed opportunity on Crowe's part. In his attempt to show the best traits of a band he is obviously very enamored with, he's wound up with a pretty lackluster film. It's too bad that he didn't use his own relationship with the band to get a different kind of story from them.
Pearl Jam Twenty Deluxe 3 Disc Blu-ray
is a three Blu-ray Set featuring over Four Hours of Extras.
Disc One: Full-Length Version of "Pearl Jam Twenty" Along with Bonus Footage
Disc Two: "The Kids are Twenty" Version of the Film and Bonus Footage
Disc Three: "The Fans are Alright" Over 80 Minutes of Extras Focusing on the Fans and their Relationship with the Band