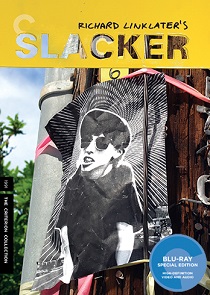 Slacker (1991)
When I saw Richard Linklater's shot-on-16mm feature film Slacker back in 1991, it was the perfect crystallization of a subculture I was just beginning to understand. I remembered it fondly, but rarely returned to it since, even as my knowledge of film technique has grown. Watching it again brought not only a rush of nostalgia for the pre-Internet days and actual social interaction, but also a higher appreciation for Linklater's use of the camera.
Slacker, filmed in 1989 in Austin TX, has an impressively fluid camera, especially for such a low budget. It follows a seemingly endless array of fringe characters in and out of cabs, cars, bars, houses, and on the streets of Austin as they discuss all kinds of philosophies ans perspectives that you're not likely to find anywhere. Linklater uses a steadicam to keep the focus on the conversation and some impressive crane shots to open things up a bit.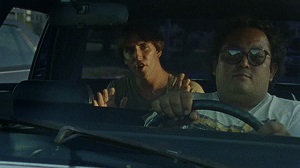 Since there's no formal plot, Slacker relies on each separate vignette to be entertaining — which they usually are — and the knowledge that the audience develops after watching it for a while that if you don't like one scene, there's another one that serves an entirely different purpose right around the corner. Linklater is very aware that his film doesn't have a linear narrative and the movie is structured with that knowledge, as well as for a variety in tone and theme. 
The extra features are a mix of nostalgic remembrances, formal discussions, and early work from Richard Linklater. In addition to the three audio commentaries, deleted scenes and alternate takes, and reunion and archival footage, the new Criterion Blu-ray contains Linklater's 1985 16 mm short Woodshock and first full-length feature It's Impossible to Learn to Plow by Reading Books from 1988.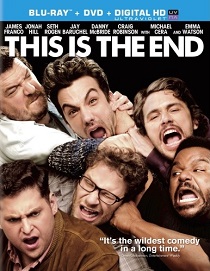 This is the End (2013)
Seth Rogen is one of those actors who who seems like he might have sprouted fully formed from a movie like Slacker. He's actually Canadian, but his comedic tendencies seem to have evolved from a similar worldview as the Austin fringe thinkers. Rogen and his writing partner Evan Goldberg have created a unique meta-comedy that revolves around The Rapture and an end of the world scenario, but is really a way to pole fun at stereotypes of the very type of Hollywood insiders they have become.
Of course, all of this is even more ironic because when a bunch of stoner dudes obsessed with masturbation become Hollywood insiders, you know things are pretty crazy. The key to This is the End working as well as it does is that the actors (Jay Baruchel, James Franco, Jonah Hill, Craig Robinson, Danny McBride) are all close friends of Rogen and Goldberg, who also directed. This means that there was tons of vulgar improvisation and input on the script during filming — and a lack of bruised egos. The commentary track featuring Rogen and Goldberg contains all kinds of funny stores and the kind of candor you'd expect from these guys.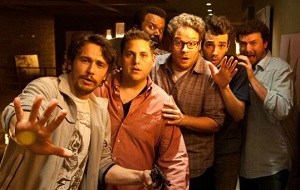 Jay & Seth vs. The Apocalypse was the 2007 short that inspired the movie, so its cool to see that included on the Blu-ray, along with the usual gag reel, outtakes, line-o-rama (highlighting those improv skills), and deleted scenes that you've come to expect from an Apatow Frat Pack home video release. One thing that's not generally included on one of these discs as any discussion of special effects, but …
This is the End has a surprising amount of pretty amazing digital VFX, which when you combine the Rogen and Goldberg's sense of humor with a Christian apocalypse (funnier still coming from two Jews), it is even more revealing that its still full of toilet humor. The film tends to lose steam after a while, but it knows its limitations, and gets a lot of mileage out of its premise. The Blu-ray package itself has a ton more laughs in the same vein. <— I said "vein."