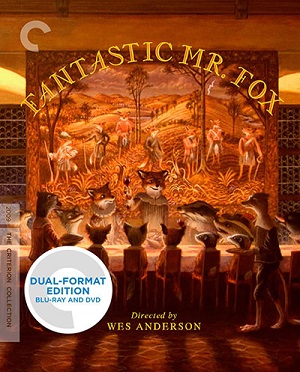 Stop-motion animation is a painstakingly long process, one point made perfectly clear by many of the excellent special features on the Criterion Dual Format Blu-ray-DVD combo of Wes Anderson's 2009 Roald Dahl adaptation Fantastic Mr. Fox.
Animating the single dolly shot (an Anderson staple) that moves from left to right covering the entirety of the mine where Foxy and his animal pals hide out, took a whopping five weeks just by itself.
An amazing time-lapse photography video from the set shows that five-week time frame compressed down to a minute, with the animators making their tiny adjustments, moving in and out of the frame like little hummingbirds.
It's also a joy to see behind-the-scenes video recorded during the voicing process, such as George Clooney rolling around in the grass and snarfing up a meal, Bill Murray interacting with Clooney and Anderson, and the director in the studio recording Mrs. Fox's voice-over work with Meryl Streep.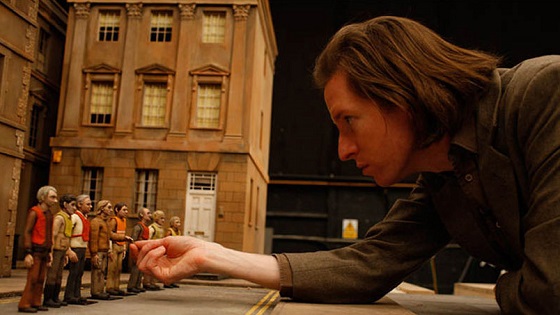 The experience of watching Fantastic Mr. Fox on Blu-ray in this pristine new director-approved digital transfer is nothing short of remarkable. The tactile quality of stop-motion animation has never been more impressive than it is here. Because the film is essentially a collection of still photographs shot by the most advanced cameras around, well, let's just say — it's very detailed.
What sticks out the most in high definition is the fur and the fabric. Nothing in the computer-animated world (where most animated movies reside currently) can simulate actual fur and fabric (the countryside itself looks like a giant rolling quilt and Anderson talks about the opening shots being terry cloth), so seeing it photographed and animated using the stop-motion technique gives the film a unique, otherworldly quality that just adds to the heightened olde-English fantasy universe Anderson and his top-notch tech crew (up to 29 units shooting simultaneously!) has so meticulously created here.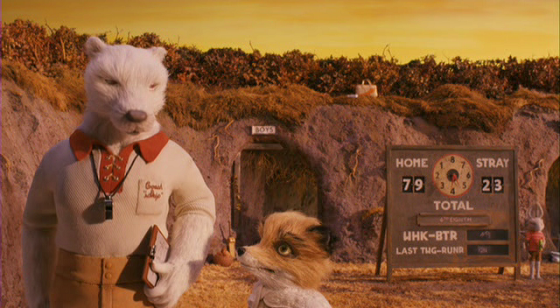 Anderson and his brother read the book as kids, so he was excited at the prospect of doing a stop-motion animation adaptation of it. Noah Baumbach and Anderson wrote the screenplay, turning a short one-act story into a three-act film, at Gipsy House in Buckinghamshire, England where Dahl actually lived with his family.The movie works so beautifully because it combines Anderson's own dry humor and whimsical sensibility with Dahl's, while adding new characters and scenarios and deepening the story. Despite all of Anderson's movies being live-action, with the level of detail in design, they sometimes feel animated themselves. Here's my original review of Fantastic Mr. Fox from 2009. It has grown in stature since then, and I would argue now that the film does engage on an emotional level.
Any normal Blu-ray release would include a smattering of publicity featurettes (six of which are included here) and maybe a director's commentary (also included), but this super-deluxe Criterion re-issue of Fantastic Mr. Fox goes way beyond that. If you own any of the other Wes Anderson Criterion releases, you get the idea. No bit of making-of magic seems to be unreleased, save one: In the featurettes, there are shots of Anderson acting out the different parts on camera. How funny would it be to see an edited together version of the film with just these moments?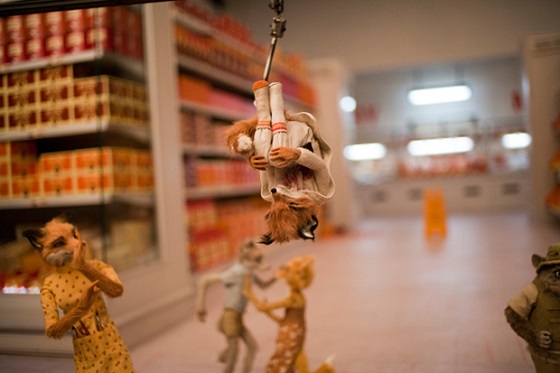 Some more goodies: Dahl reading his book aloud,  some animated shorts created to accept post-release movie awards, 10 minutes of discussion and analysis of the movie from Jake Ryan and Jeremy Logan — two young boys, an hour-long documentary on Dahl and his influence that was previously on the 20th Century Fox release, and an hour-and-fifteen-minute pre-viz animatic of the entire film that served as a blueprint before filming began is also on this disc.
There's a serious dearth of "children's films" that can actually be enjoyed by the whole family, and Fantastic Mr. Fox is one that can also be enjoyed by serious cinephiles as well — and not just for its aesthetically pleasing visual content. It willfully ignores the predictable tenets of what passes for family fare these days, and has a unique take on growing up and being a responsible adult. Clooney's Mr. Fox is struggling with his own nature as a chicken-hunter and its a natural parallel. In the movie, Anderson finds a way to blend the delights of having a youthful curiosity and imagination with the eventual realization that adulthood comes for everyone.