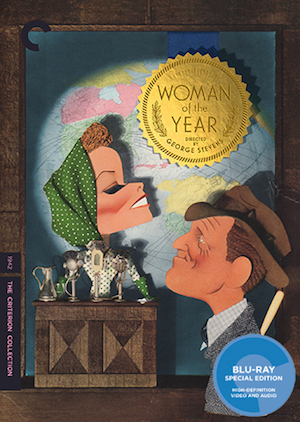 [Rating: Solid Rock Fist Up]
The superlative 1942 romantic comedy Woman of the Year is famous for being the first (and best) of nine onscreen pairings between Katherine Hepburn and Spencer Tracy, an offscreen couple that never married but remained loyal friends until Tracy's death in 1967.
What's interesting about this film and the career and life-altering cycles that it jump-started is that it didn't come to be because of a man. True to the independent spirit of her political columnist character Tess Harding, it all started with Katherine Hepburn. It was Hepburn, eager to continue the comeback that started with her previous film The Philadelphia Story, who significantly contributed to the screenplay, hired George Stevens as director, and insisted on getting Tracy for the role of confident sportswriter Sam Craig.
(Ring Lardner Jr. was the Oscar winner the following year for Best Screenplay, but both Hepburn and eventually Stevens had their hands on it as well.)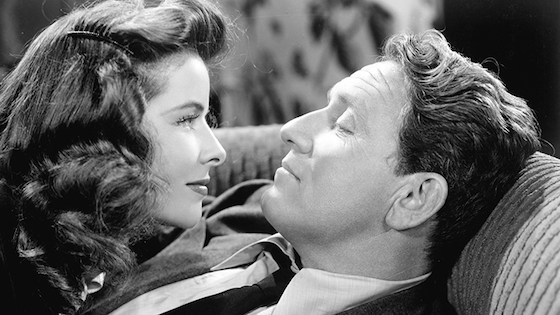 Criterion's new 2K digital restoration, with uncompressed monaural soundtrack, has Woman of the Year looking and sounding better than it has since its theatrical run 75 years ago. The new Blu-ray also contains two archival feature-length documentaries and three brand-new interviews that help illustrate why Woman of the Year is such an iconic film and so ahead of its time in terms of how it upended the stereotypes of male and female attitudes of the time. It is more than its deceivingly simple premise of "opposites attract."
In many ways, the entire movie is a traditional role reversal of the sexes. Tess and Sam are both journalists, but Tess has the more respected and cultured position. She also speaks multiple languages and isn't afraid to flaunt her sexual confidence. During their courtship, Sam takes the more subservient role and it's clear that he's desperate for approval from Tess.
Much has been written about the chemistry between Tracy and Hepburn, which is by turns electric, good-humored, and surprisingly tender throughout the picture, so I won't go into any more detail here. Hepburn made a conscious choice to amp up her sexiness, and their first meeting in the movie is one of the most famous scenes in movie history. Thematically, having Tess and Sam fall in love and marry without any tacit understanding that Tess needed to be less strident and should become a well-behaved wife made it a bold, bold film.
Too bold, alas, to make final cut.
In Criterion's new interviews for the Blu-ray, Stevens biographer Marilyn Ann Moss and writer Claudia Roth Pierpont offer similar if differing opinions on why and how the ending to Woman of the Year was re-scripted and re-shot. The studio line is that women who watched the film in test screenings reacted poorly to Tess (an extension of the classic Hepburn persona) being too perfect. They wanted her too be taken down a notch. Pierpont suggests that this may have been a story fabricated by either studio head Louis B. Mayer or Stevens as an excuse to change the ending.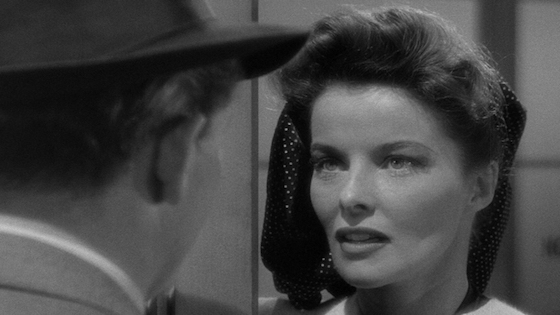 The original ending was shot, but the only thing that survives of it are some stills. It had Tess and Sam each making efforts on the others' behalf and learning something important about the other person by walking in their shoes — before coming together again. This ending leaves both Tess and Sam on equal ground. The one in the movie instead has Tess making breakfast for her husband, while he tucks his napkin shirt and waits. She fails miserably (albeit in a swell bit of gag humor skillfully orchestrated by Stevens), and decides suddenly to dedicate herself to being a better wife.
It's too bad, because Woman of The Year might be a perfect film were it not for this last-act sellout. It was an enormous hit, and the rest of it holds up as a shining example of a standard-setting rom-com. It was also Stevens' last great pure comedy. Than director who had made such a name for himself with sophisticated rom-coms and musicals was waking up to to the threat of the Nazis, and his travels overseas during WWII while documenting the fighting and the concentration camps would change his life (and the seriousness of his film output) forever.
This Criterion Blu-ray from the new 2K restoration, and with all of it's supplemental features, is the definitive version of the film. For anyone looking to add a single Hepburn/Tracy movie to their collection, this is the one.