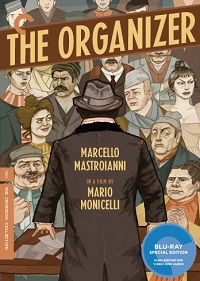 In a video interview conducted in 2006, Italian director Mario Monicelli says that his 1963 film The Organizer, out now on Blu-ray and DVD from The Criterion Collection, is a comedy.
To be more specific, he aligns it with the tradition of commedia all'italiana (comedy Italian-style), something that he helped to invent and perfect in his heyday. For those not familiar with this genre (mainly from 1958-1980), there's one important trait that stands out among films of its kind: an undercurrent of sadness that serves as a counterpoint to the comic moments.
I compagni (known in America as The Organizer but translated in Italian as The Companions or The Comrades) certainly has that. When it begins, it seems like The Organizer is going to be a straight-up inspirational working-class drama about a group of exploited textile factory workers in Turin organizing themselves to strike and overcoming all odds to triumph over "the man."
This is not the case.
It's amazing how — as far back as 1963 — these formulas were already established and directors like Mario Monicelli were already subverting them. By the time the rumpled Professor Sinigaglia (Marcello Mastroianni) shows up to lead the workers, cracks are already beginning to show underneath the surface.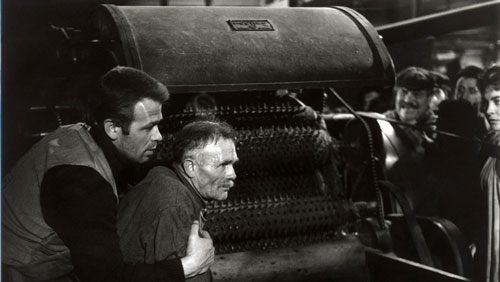 The workers can't commit fully to a strike, leaving those who are dedicated to the cause to die on the vine on several occasions. It alienates the workers and destroys their confidence that anything will be accomplished. Besides these failures of it characters, The Organizer has huge shifts in tone, where farcical elements from the ensemble cast will invade the serious goings-on. How many films have you seen a scenes where the underdog confronts his boss with a knife, but can't get it to open?
On the visual side, The Organizer is a black-and-white marvel. Shot on location partially in Italy and also in a Yugoslavian factory by Giuseppe Rotunno, the movie has a neo-realistic feel, but sometimes the framing of the shots gives it a beautiful cinematic vibe that is far from gritty, despite its subject matter.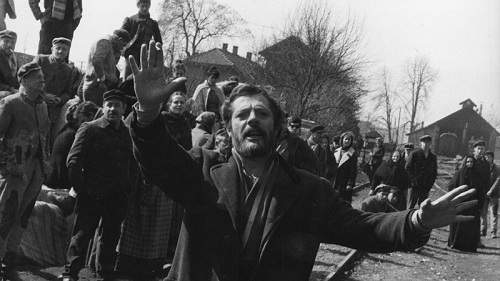 Mario Monicelli says in the introduction that although The Organizer ends on a pretty down note that it isn't entirely about the futility of the working-class struggle. Monicelli was an avowed Marxist, but the movie doesn't feel any more openly political today than any number of left-leaning films about similar subjects (A Civil Action, North Country).
That strange "balance" of the workers trying to realize their vision of justice with various levels of dedication (some of them are literally nodding off during classes for the illiterate among them) seems completely legitimate. That Monicelli chooses to portray these moments with an overtly comic touch makes the film all the more unique and enjoyable.