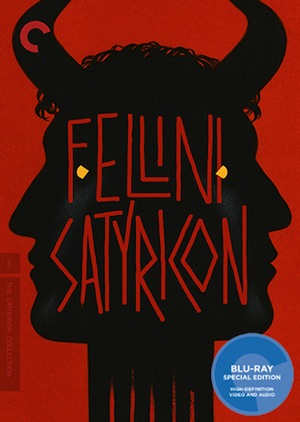 [Minor Rock Fist Up]
The legend of Frederico Fellini's controversial 1969 film precedes it.
The summary on the Criterion Collection's website is as good as I've read: "An episodic barrage of sexual licentiousness, godless violence, and eye-catching grotesquerie, Fellini Satyricon follows the exploits of two pansexual young men—the handsome scholar Encolpius and his vulgar, insatiably lusty friend Ascyltus—as they move through a landscape of free-form pagan excess. Creating apparent chaos with exquisite control, Fellini constructs a weird old world that feels like science fiction."
Whether Fellini Satyricon is a paean to excess or a reflective deconstruction of ancient myths and legends, one thing is for sure: It isn't driven by a strong narrative or what one would consider effective acting, in any sense. Instead, its a series of stagey set pieces that happen to feature one of a couple main characters, loosely strung together by theme.
The only time that Fellini Satyricon gels into anything remotely cohesive is at the very end of its punishing 130-minute running time, when the film seems to end in a random moment, rendering its key players as fresco paintings on a desolate island. Suddenly, all of the scenes disjointed madness that came before that moment are memorialized before your eyes and there's a melancholy sense of a history long since passed. (Which is even more odd, since much of the film feels like science fiction, not historical fiction.)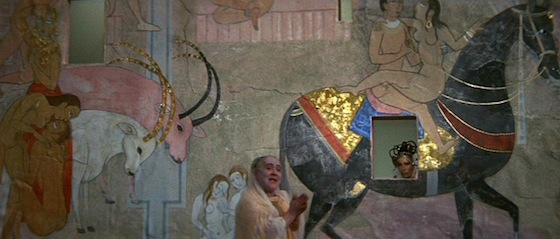 But even as this bold directorial stroke burns those images into your brain forever, there's a numbness to the entire cumulative experience. That's where its true effect lies, and Fellini Satyricon is mostly a reminder of how wide open and full of possibility this particular time in cinema was. Hell, you might even be able to say that Fellini was the spirit animal that kicked off the most adventurous decade in movie history.
Now that I've pretty much summed up my general feelings on the film, out now on Criterion Blu-ray and DVD from a brand new 4K digital restoration, let's get into some specifics. The Roman novelist Petronius is generally believed to have been the author of the Satyricon, which survives only in incomplete form. The book is both hard-edged, cynical and romanticizing, and scholars are still unsure of its exact target, be it prevailing moral attitudes, Emperor Nero and his ruling class, the lower classes, or all of the above.
"All of the above" is an apt descriptor for Fellini's film, which casts the Martin Potter as former gladiator Encolpio and Hiram Keller as Ascilto, his frenemy. Both actors seem to have been picked for their physique rather than their acting ability, and the stunted ancient-Roman-to-Italian-to-English translation doesn't help things either. Fellini sticks loosely to the framework of the various adventures of these men as they vie for the affections of a 16-year-old slave boy named Gitone (Max Born, a blank slate), but along the way, he adds in a hermaphroditic priestess, a nymphomaniac, and Minotaur battle in a labyrinth. If that last description sounds like a dramatic technical achievement for its time, it's not. The Minotaur is huge, shirtless guy wearing a helmet.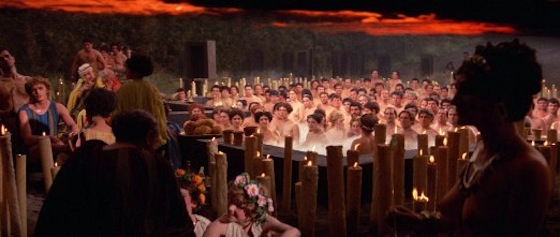 The sets, costumes, and production design are all as opulent as you would expect from its $3 million budget — pretty big for the time. Because of this, and Criterion's excellent restoration, which brings out all of the deep reds and blues without that brownish tint that so many bad 70s-era transfers have, I was a little confused by the poor dubbing. The actors dubbed their Italian dialogue in post, while the new English translation appears onscreen. But Fellini purposefully dubbed the ADR to be out of sync with the actors' original lines, another attempt to alienate the viewer from reality.
It works, and it's kind of hypnotic. for Fellini Satyricon to work in any sort of way, you have to surrender to the film and its surreal tableau. Unfortunately, that includes amateurish acting and a limited cinematic palette that mainly includes long tracking shots across walls and into theatrical stage sets. It never once feels like a fully realized world, but rather a bunch of scenes with extras who started doing their background business just before someone yelled "Azione!"
However, Fellini Satyricon is more than an endurance test. Even though I wasn't alive in 1969, the film has a very nostalgic feel to me. There are true artists out there who are still making ambitious films to this day, but the brand of let-it-go filmmaking on display here is very of its time. As a curiosity and a piece of history, Fellini Satyricon is a must-see for serious film fans. It almost seems quaint in its post-hippie desire to shock, and it certainly doesn't subscribe to any of the modern screenwriting rules of mounting action and conflict.
The audio commentary included is a strange one. It's basically an adaptation of an on-the-set memoir that has fleeting connection to whatever's appearing onscreen at any given moment. There's also an hour-long documentary shot on the set, archival interviews with Fellini (including a brief and hilarious Gene Shalit interview), a new interview with a photographer who was on the set, a new interview with director of photography Giuseppe Rotunno, and a new documentary that compares the film to Petronius's work. Each of these special features provide massive insight into this unusual film, and considering its age, seem to have been put together at just the right moment. Bravo again, Criterion.