The Criterion Collection is known for restoring and preserving the best and most prestigious works of art since the dawn of moving pictures.
So what in the hell is a film by nudie b-movie impresario Russ Meyer doing in The Criterion Collection with a high-definition digital restoration and tons of extra features?
Well, besides being an addictively entertaining guilty pleasure from beginning to end, Beyond the Valley of the Dolls is that rare movie that transcends its opportunistic origins to become a true singularity; a movie like no other.
After the box-office success of the 1967 Jacqueline Susann adaptation Valley of the Dolls, 20th Century Fox wanted a sequel. When Susann refused to write it, Meyer was brought in. He brought in Roger Ebert. Yes, that Roger Ebert. Beyond the Valley of the Dolls is his sole screenplay credit and it's gonzo as hell. He takes a bunch of stock characters (and c-list actors and former Playboy playmates) and grinds them through enough ridiculous conflict to put a season of American Horror Story to shame.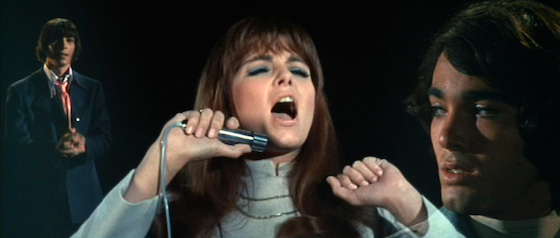 Essentially, there was so little left that tethered this movie to its predecessor besides the concept of pretty young things getting mixed up in a dangerous drug culture (the "dolls" of the first move referred to pills not its characters) that Beyond the Valley of the Dolls bears this disclaimer in its opening titles: "This is not a sequel——there has never been anything like it."
It may sound like hyperbole, but it's pretty much true.
This was Meyer's stab at making a "real" movie with a real budget, so he wanted to pull out all the stops. An ensemble cast sings, dances, parties, drugs out, sells out, blackmails, steps on each others backs, and eventually murders each other, all in the search for fame. Ostensibly, the story revolves around an all-girl band called The Kelly Affair (re-named The Carrie Nations by record producer Z-Man, played hilariously over the top by John Lazar) that travels to Los Angeles to become stars.
This simple template is soon overwhelmed by Meyer's mile-a-minute editing style, which splinters into more subplots and non-sequiturs than any human can handle (sometimes cutting characters off mid-sentence), all the while assuming that one's knowledge of film cliches will carry them through any rough patches. Nothing I've ever seen before can match the pure energy of the first 30 minutes of this film, and that's an achievement in and of itself.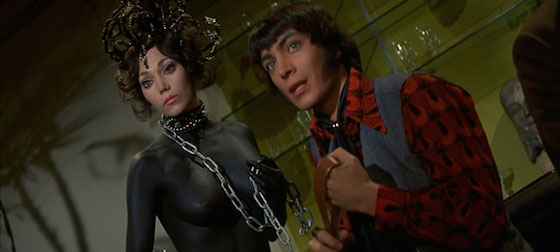 But this is post-Manson L.A. and things aren't quite as rosy as the Summer Of Love, so things do eventually slow down, like coming down from a bad acid trip. And they get dark. Real dark. Like, leave-a-bad-taste-in-your-mouth dark. And the tone is so all over the place. Ebert's painfully unhip dialogue is delivered by sub-par actors with the conviction of Shakespeare, rendering it hip and hilarious all over again! (You know what, scratch what I said about sub-par actors: LaZar is a goddamn hero, and the template for Tim Curry's Dr. Frank-N-Furter in Rocky Horror Picture Show.)
Criterion more than delivers on the extra features, as usual, headlined by a new 30-minute interview and appreciation of the film with John Waters. I had also never seen the 50-minute 1990 cast and crew Q&A with Meyer and more, or the 1988 episode of Jonathan Ross' The Incredibly Strange Film Show, which examines Meyer's work and legacy. A 2005 interview with multiple cast members and Meyer collaborators called Memories of Russ was also new to me.
Both audio commentary tracks that appeared on the previous 20th Century Fox DVD are here. One is is a detailed and personal account of the making of the movie from Roger Ebert and the other features cast members LaZar, Dolly Read, Cynthia Myers, Harrison Page, and Erica Gavin. Five featurettes from the DVD are also ported over, as well as screen tests, trailers (also for two other Meyer films), and one promo spot.