The oldest movie currently available in the Criterion Collection, The Phantom Carriage presents a good argument for the vitality of silent film even today. Even 90 years after its original release, director Victor Sjöström's influential piece of cinema retains its spooky, ethereal quality.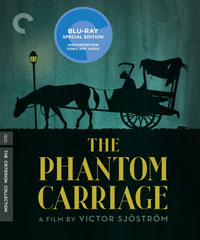 This silent film is widely regarded as one of the most influential movies in Swedish cinema, and with this beautifully restored Criterion Blu-ray, its easy to see why.
Equal parts ghost story and folk tale, The Phantom Carriage features Sjöström himself in the lead role. (Over 30 years later, Ingmar Bergman would cast Victor Sjöström in Wild Stawberries, which became one of Bergman's most famous films.)
Here, Victor Sjöström plays David Holm, a brutish lout who is found drinking in a graveyard on New Year's Eve. He gets in a drunken brawl and is killed at midnight.
According to legend, he who dies at midnight during the turn of the calendar is then forced into the grim task of collecting the souls of the dead for the next year. A mysterious, seemingly transparent phantom carriage appears, with a man shrouded in a cloak at the helm.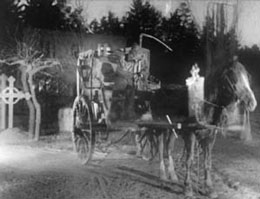 When it turns out to be David's friend Georges whom he thought missing for the past year, he takes pity on David and offers to show him what he will become.
The pair travel together in a complicated series of flashbacks through David's life and all the wrongs he has caused his wife and family (a la A Christmas Carol and It's a Wonderful Life), but Georges also takes David with him to collect a couple of other unlucky people who have reached death's grasp.
Victor Sjöström uses tricky double exposure photography to create special effects for this stirring silent film. He even superimposed some images up to four times, lighting each one in a slightly different way to give these ghostly images a haunting, three-dimensional quality.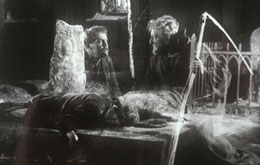 To pick up a woman who has drowned, the carriage actually descends into the sea and travels underwater in a scene that has to be seen to be believed.
Shot indoors on highly controlled sets, The Phantom Carriage is a highly stylized movie. One thing that sticks with me are the faces of the actors, especially Sjöström. He conveys David's rage, but also the man's desperation, and sometimes slivers of tenderness. Shots linger on these expressive faces, allowing us to read into them, where dialogue might distract.
The Phantom Carriage is an expressive, remarkable silent film with an enduring quality that will keep it watchable for years to come.
This new digital Criterion restoration features two scores, one by Swedish composer Matti Bye and the other by the experimental duo KTL. I preferred Bye's, as the KTL one was too minimalist to complement the highs and lows of this silent film.
Criterion also includes an audio commentary with film historian Casper Tybjerg, an interview with Ingmar Bergman (excerpted from the 1981 documentary Victor Sjöström: A Portrait) and an original visual essay about the film's influence on Ingmar Bergman.
Vintage footage of the construction of the Räsunda studio, where The Phantom Carriage was filmed, is also included in this nice package from Criterion.